Are you out of hand sanitizer stocks and want to buy in wholesale to save more?
Whether you need bulk hand sanitizers to supply to a hospital, to the government or simply need to re-stock, we got you covered.
In this article, we've listed some of the places online where you can buy bulk hand sanitizers. These vendors still have stocks in wholesale, in refills or personalized hand sanitizers offered in a wide variety of options.
Need it in a pump bottle, screw cap container or in large gallons? Choose and you can have it, but you need to click fast as supplies are running out very quickly.
What's more, these products can be shipped directly to your doorstep at the most affordable shipping prices.
Here's where you can find bulk manufacturers of alcohol-based hand sanitizers to combat Coronavirus.
Where Can I Buy Hand Sanitizers in Bulk?
You can buy hand sanitizers in bulk from OEM or private label manufacturers in China, India, or other countries.
A hand sanitizer manufacturer may offer affordable prices ranging from 0.1 to 3.5 USD per piece depending on the size. The minimum number of orders will differ based on the volume of the bottle, but is usually between 500 to 10,000 units.
Buy Bulk or Private Label Hand Sanitizers Directly From Manufacturers
If you need wholesale hand sanitizers, you can directly go to a reliable hand sanitizer manufacturer's website and order. Directly ordering from a manufacturer's site can oftentimes save you a lot more expenses than buying from supplier directories.
Best Manufacturers in Different Countries with Available Supplies
In the following articles, we've covered the best hand sanitizer manufacturers offering bulk supplies.
Simply click through the link of your interest. Most of these manufacturers ship products globally.
But for our top manufacturer recommendation based on quality and price, we recommend BeCleanse.

Hand Sanitizer Manufacturer and Private Label Manufacturer in China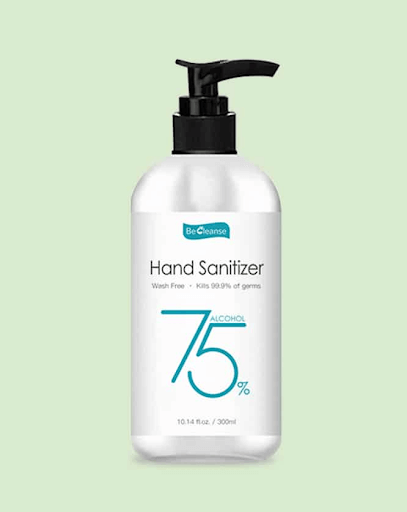 BeCleanse has 11 years of experience in the manufacture of hand sanitizers. The company is capable of the mass production of hand gels, sprays, and foam. Each product carries up to 75% alcohol or more, ensuring it can kill COVID-19 on the skin.
You can avail a minimum order requirement (MOQ) for retail of about 100 pieces.
For private label products, the MOQ is higher depending on the volume of the container. This can be around 10,000 to 30,000 at a justifiable cost.
The company is also affiliated with a freight company for easier and faster transportation of goods each week especially in this time of need.
The manufacturer will take care of exporting and forwarding your orders to your country. They also transport products through FOB, door-to-door or DDP.
How to Place an Order
Simply look at their products and what they offer then contact the manufacturer through the contact page.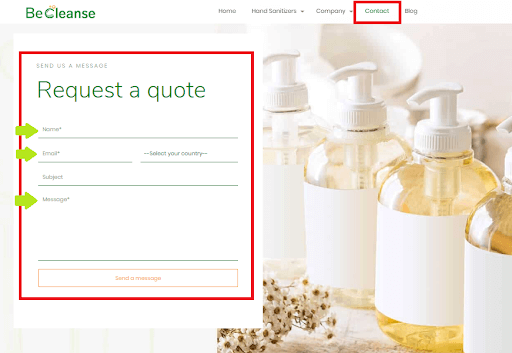 When contacting a manufacturer, be direct with your queries. You can simply inquire the following in the message box:
Good day!
My name is Chase from the ABC Hospital in California, USA.
I want to place an order for bulk hand sanitizers. But before I do so, I would like to know the following first:
Do you have a minimum order quantity? If so, what is your MOQ?

What is the cost per unit of hand sanitizer for different sizes? Do you offer discounts?

May I know your payment options?
Can you please send me a sample of the hand sanitizer before I place a full order. May I also know the cost of the sample and the shipping fee. You can send the sample at this shipping details:
Chase Andrew
B05 Direct Ave.,
California, USA
Thank you.
Regards,
Chase,
ABC Hospital
www.abchospital.com
818-222-2222
Purchase Wholesale Hand Sanitizers from Supplier Directories
You can also look for suppliers in reliable directories such as Alibaba, Amazon or Indiamart.
Alibaba
Alibaba has over 80,000 listings of hand sanitizer manufacturers, suppliers and exporters. Most of these manufacturers have in-stock hand sanitizers. Generally, these suppliers cater to bulk orders of hand gels, foam or refills.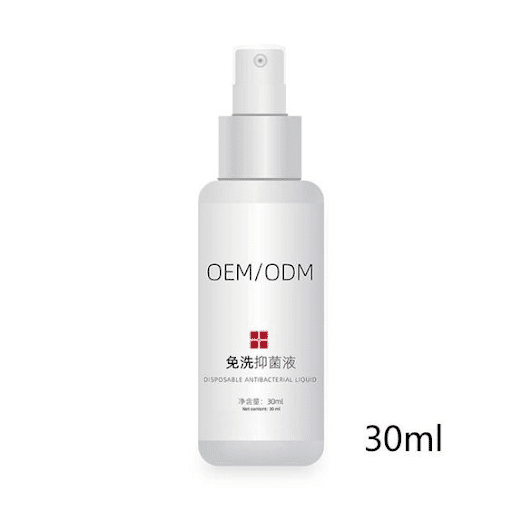 Popular products include:
Mini hand sanitizers in bulk
Small hand sanitizers in bulk
Wholesale hand sanitizers
Personalized hand sanitizers
Pocket size hand sanitizer in bulk
Hand sanitizer travel size in bulk
Custom hand sanitizer
Large hand sanitizer
Foaming hand sanitizer
Hand sanitizer refill bottles
Empty hand sanitizer bottles
Hand sanitizer pump
Amazon
Amazon just got a restock of hand sanitizers, but they are clearing out fast. In Amazon, you can mostly find distributors and suppliers, but the stocks are quite limited.
Popular products include:
Purell Advanced Hand Sanitizer Variety Pack (1 oz hand sanitizer bulk)
Small bottles of hand sanitizer in bulk
Instant Antibacterial Hand Sanitizers in threes
Value sized hand sanitizer refills (in gallons)
Auto-foam refills
Portable hand sanitizers
Indiamart
Indiamart has over a hundred listings of reliable hand sanitizer suppliers. You can find branded and unlabeled alcohol-based hand sanitizers from various suppliers. Sizes are also varied such as 10 ml, 30 ml 50 ml, 100 ml, 200 ml, 500 ml and 5 L bottles.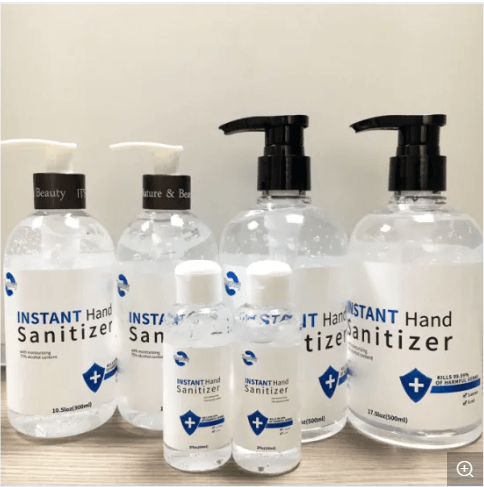 How Can I Choose a Reliable Hand Sanitizer Manufacturer or Supplier?
Buying bulk hand sanitizers means you will be cashing out a large sum of money. And this means, you need to verify the reliability of the manufacturers.
But choosing the right manufacturer involves tremendous energy and time.
If you are aiming for the cheapest cost without compensating the functionality and quality of the hand sanitizer, here are a few guidelines to help you shortlist your options
1. Check the Specifications of the Hand Sanitizer
You can buy three forms of a hand sanitizer or hand antiseptic. It can be as a hand gel, foam or liquid.
What Ingredients You Should See?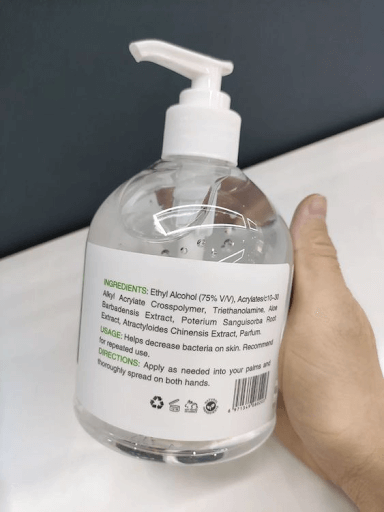 Hand sanitizers usually contain these essential ingredients:
Alcohol
Glycerol (for moisturizing the skin),
Additives such as hydrogen peroxide (as an inactive ingredient)
Instant hand sanitizers may also contain fragrances or essential oils.
What Health Authorities Say About Ingredients?
If you want a hand sanitizer which can be effective at killing Coronavirus and other types of viruses and germs on the skin, you must look at the standards set by CDC, WHO or FDA.
The Center for Disease Control and Prevention (CDC) says that alcohol-based hand sanitizers with an active ingredient of 60% to 95% Ethanol or Isopropanol can effectively eliminate Covid-19.
Hence, you must first look at the quality of the hand sanitizer you are buying. A good quality hand sanitizer has 75% to 80% Ethanol or Isopropyl alcohol.
Also, make sure that the product doesn't contain any of these ingredients banned by the FDA in the formulation of hand rubs. These ingredients can be toxic or can irritate or harm the skin. You should also look if it contains parabens, which can also be an ingredient to look out for.
2. Does the Manufacturer Have Valid Certificates for the Production of Hand Sanitizers?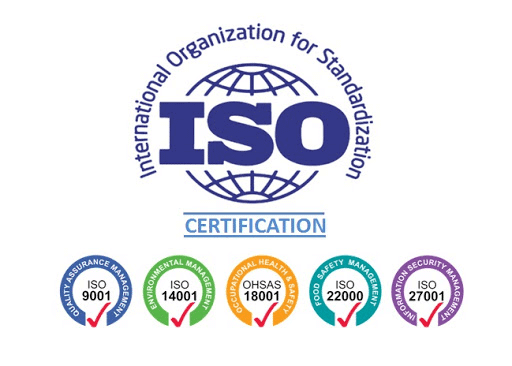 Trustworthy manufacturers with a factory for manufacturing hand sanitizers should have an ISO certificate. This certification provides proof that a manufacturer has a sound quality control procedure and an excellent production process.
Choose a manufacturer who has this certification for their factory.
How to Verify Suppliers
In Alibaba and Indiamart, you can see a verification sheet for suppliers which includes different levels. This can also appear as a verification badge for each supplier on the platform.
Choosing a supplier with a verification badge is often a good decision.
3. Does the company have manufacturing operations transparency? How strict is their quality control?
Can you clearly see through the manufacturer's operations and organization? Do they provide production capacity? Do they have clear procedures in handling bulk orders?
A reliable manufacturer has a well-organized system that gives full availability of information as they establish good business relationships with their customers.
4. Can the Supplier/Manufacturer Give You Clear Information of What You Need?
You can also contact the supplier and ask for a quotation or free samples. You must also note how they provide the following pertinent information.
Minimum Order Quantity (MOQ) and Price
There are different MOQs required by each manufacturer for wholesale orders. In China, you can find manufacturers offering 100 MOQ to 500 MOQ. Others require 10,000 to 50,000 MOQ.
With this number, the price per unit of hand sanitizer also varies. You can find the price of a 30ml bottle for 0.12 USD for 10,000 MOQ. If you buy more than the MOQ, the price per piece will be lower.
But even if the supplier lists these MOQ in a range, you should verify it with them to know if it's accurate.
In this way, you will know outright if you can afford it. You can also try to negotiate with the price and the MOQ. Oftentimes, overseas suppliers are easy to negotiate with.
Lead Time
You must also know how long before the manufacturer can produce and deliver your order. For private label hand sanitizers, the delivery may take a longer time as they would have to customize your orders.
Many manufacturers will post a lead time of 7 days to 1 month, depending on the volume of your order and the demand.
5. What are Your Payment Options?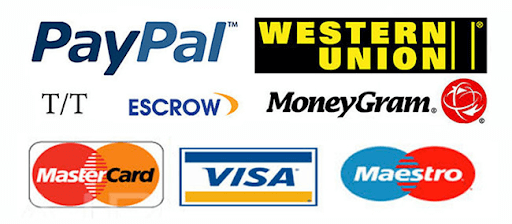 Now that you understand the MOQ and price options, you might ask how you can pay the supplier.
There are many ways you can pay suppliers overseas. Some of the most common ways are through bank transfer (TT), letter of credit, Paypal, Escrow, Western Union, American Express or Mastercard.
You need to know which one is the most convenient and safest payment option for you.
If your gut tells you that you are dealing with an unreliable supplier, it is recommended not to pay the full amount before they start production. The most secure way of paying suppliers is either through Paypal or through an Escrow service.
Conclusion
The most practical place to buy bulk hand sanitizers online is directly through a manufacturer's online store or through reliable suppliers' directories.
If you aren't sure about the proper procedures in ordering bulk hand sanitizers overseas, we've also outlined how in this article.
If you want to buy retail hand sanitizers online, you can read our article on "Where to Buy Hand Sanitizers Online"