Your Label, Our Expertise
Private Label
Want a promotional hand sanitizer product under your company name? Be one of the breakthrough hand disinfectant products in the market when you place your own brand and customize your packaging with us.
BeCleanse offers tons of options for producing your desired private label hand sanitizer.
Affected by the epidemic, the demand for hand sanitizer is constantly rising. BeCleanse has launched a service for quickly customizing and personalized labels for hand sanitizer, allowing you to quickly formulate your own personal or brand-specific labels based on our product specifications.
BeCleanse has a wealth of experience in customizing exclusive labels for customers. At present, we have a large number of hand sanitizer bottles in stock, as follows: 30ml 50ml 60ml 100ml 300ml 500ml 1L. If you choose these bottles of capacity, customize the label, the entire production process and delivery time will be very fast.
First of all, you only need to tell us the specifications you want, and then our sales will send you the corresponding label size, and then you can start designing. Of course, in the production process of your exclusive label hand sanitizer, we can help you make a sample of your label and provide an exclusive picture to provide you with advance publicity so that you can quickly open the market.
At present, BeCleanse can undertake a large number of orders for customized labels. You can also see more information about the products and ingredients of the hand sanitizer below.
If you're urgent, feel free to call us at +86 189-2609-3670‬ or write us [email protected]
---
Composition / Ingredient Data.
---
At present, the ingredients of BeCleanse's private label hand sanitizer are based on 75% alcohol. According to the CDC, hand sanitizer containing more than 70% alcohol has a good effect on killing bacteria. If you need more specific material safety information, please contact us to request the MSDS report.
---
| Chemical name | CAS No. | % (by weight) |
| --- | --- | --- |
| Ethanol (Alcohol) | 64-17-5 | 75.00% |
| Water | 7732-18-5 | 20.9% |
| Glycerin | 56-81-5 | 3.0 % |
| Carbomer | 54182-57-9 | 0.5 % |
| Phenoxyethanol | 67-63-0 | 0.5 % |
| Aminomethyl Propanol | 124-68-5 | 0.1 % |
Certificates
---
Our hand sanitizer not only meets the Chinese market and export standards, but also has the corresponding export qualification, meets the standards of the European market, has CE MSDS RoHS Reach certificate, in addition to the U.S. FDA certification, DUNS and NDC registration and coding.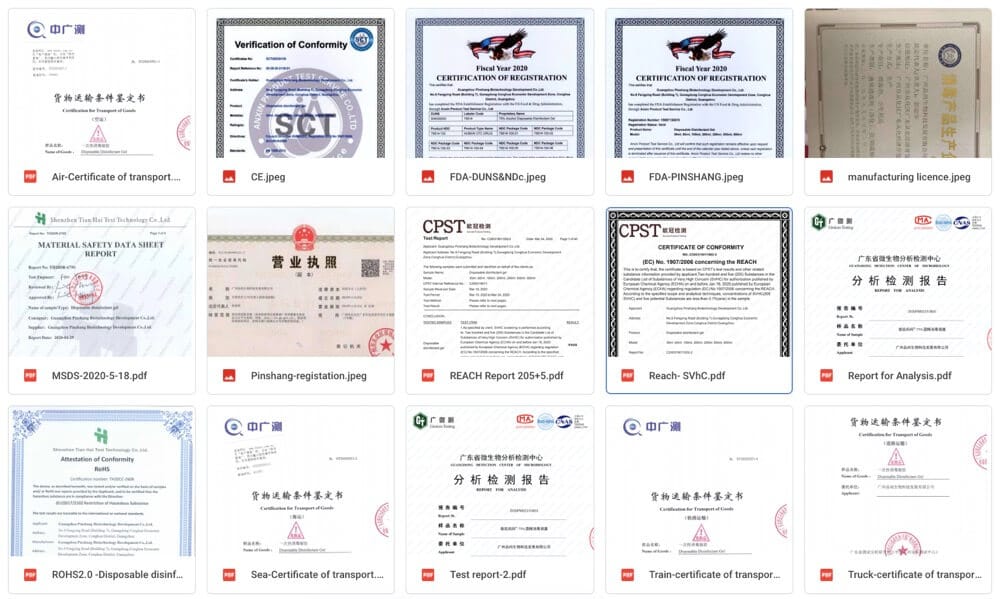 Private your hand sanitizer Label
through 3 Simple steps.

Choose the hand sanitizer you want to private label, like capacity. Then we will send you the label size.

Start your design, and send back your artwork to us to confirmed the details.

After confirming the price and lead time, start production.
Private label hand sanitizer available to promote your brand and company easily.
---
First, we have top-quality formulation options for you. These are backed by a decade of experience in hand sanitizer manufacturing, a panel of approval from health professionals and FDA-regulated, cruelty-free ingredients.
Second, we house several automated manufacturing units, which produce over millions of product inventories in a month. Our seamless production process and capabilities allows us to deliver high quality hand sanitizer gel at a lower price per unit than our competitors.
We stock a variety of sizes, shapes and configurations for hand sanitizer bottles which include, but not limited to 30ml, 50ml, 60ml, 100ml, 300ml, 500ml, 1L and many more.
All you need to do is tell us the specifications you want such as the:
Bottle size like the capacity
Number of bottles you need
Then we will send you a quotation and the label size, once we agree on terms, we will start manufacturing your first product. We can send you a picture of the product and/or a product sample so you can start with pre-marketing.
Afterwhich, we can start the mass production of your hand sanitizer product. All this happens in a timely manner, and at a budget price fit to what you can afford. Contact us for a quotation now!
SEND US A MESSAGE
Request a quote
---
#302, Bld D
R.N Digital Industrial Zone
Baoan, Shenzhen 518100, China