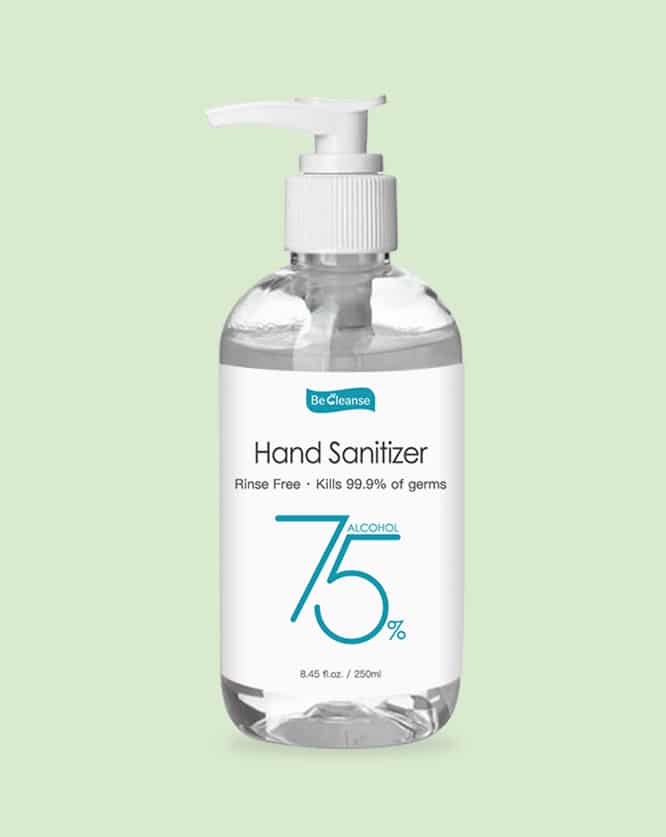 Our 250ml hand sanitizer gel is a powerful and fragrant hand disinfectant against Coronavirus and other infectious germs, with up to 75% Ethyl Alcohol. The clear, antibacterial gel is contained in a bottle with over 8.45oz of high quality hand sanitizer.
This large pump hand sanitizer gel is loved by family households for its economic size, quick drying and non-sticky content and pleasant scent.
What's more, when you order in bulk, you'd have no other bargain as good as ours! Our 250ml sized hand sanitizers have the best price and the best quality in the market.
BeCleanse hand sanitizer factory houses the largest mixing units and automated filling equipment in China. You'd have the benefit of purchasing our quality alcogels at a bulk for a bargain cost and professional branding.
---
Specification
---
Item
250ml (8.45oz) Hand Sanitizer Gel
Net capacity
250ml (8.45fl oz)
Style
Bottle with pump
Main Ingredient
Ethyl Alcohol 75%
Purpose
Antiseptic, kill germs and bacterias
Use
Helps reduce bacteria on the skin when water is not available
Inactive ingredients
Water 20.9%
Glycerin 3.0%
Carbomer 0.5%
Phenoxyethanol 0.5%
Aminomethyl propanol 0.1%
Private Label
Yes
| | | | |
| --- | --- | --- | --- |
| Qty / Ctn | 40pcs/cnt | Qty/Pallet | 66ctn/pallet=2,640pcs |
| Meas | 50*35*19cm | Weight | 1,000kg |
| G.W. | 15kg/ctn | Dimensions | 105*120*224cm |
---
Composition / Ingredient Data.
---
According to the CDC guideline, use a hand sanitizer that contains at least 60% alcohol, and our hand sanitizer's main ingredient is 75% food-grade alcohol, which is safer to use.
| Chemical name | CAS No. | % (by weight) |
| --- | --- | --- |
| Ethanol (Alcohol) | 64-17-5 | 75.00% |
| Water | 7732-18-5 | 20.9% |
| Glycerin | 56-81-5 | 3.0 % |
| Carbomer | 54182-57-9 | 0.5 % |
| Phenoxyethanol | 67-63-0 | 0.5 % |
| Aminomethyl Propanol | 124-68-5 | 0.1 % |
Certificates
---
Our hand sanitizer not only meets the Chinese market and export standards, but also has the corresponding export qualification, meets the standards of the European market, has CE MSDS RoHS Reach certificate, in addition to the U.S. FDA certification, DUNS and NDC registration and coding.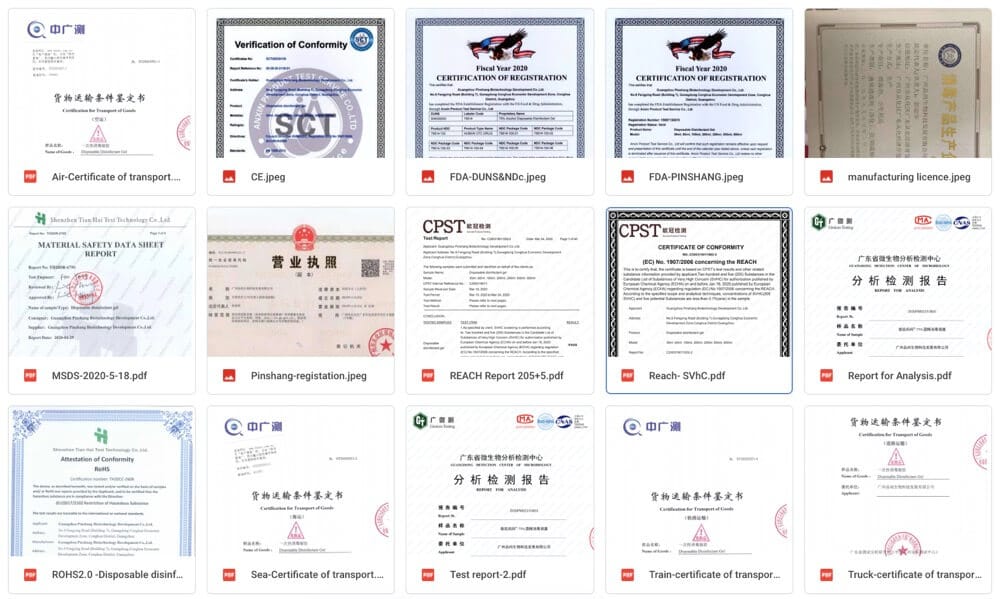 Private Label hand sanitizer
through 3 Simple steps.

Choose the hand sanitizer gel type of container, capacity, then we will send you label size.

After we've received your design, we will confirm the details with you.

After confirming the price and lead time, start production.
In stock and fast delivery hand sanitizer gel, sufficient production capacity and bottle inventory.
---
Professional rinse-free alcohol hand sanitizer gel supplier with complete export qualification. Currently, we have ample supply of raw materials such as bottles and pump heads, with a small amount of stock left on a daily basis on a first-come, first-served basis.
We ship daily and understand all the requirements for shipping.
Dangerous Goods Transport Certificate
Dangerous Goods UN Safety Package
Feel free to contact us if you have any further questions.
SEND US A MESSAGE
Request a quote
---
#302, Bld D
R.N Digital Industrial Zone
Baoan, Shenzhen 518100, China