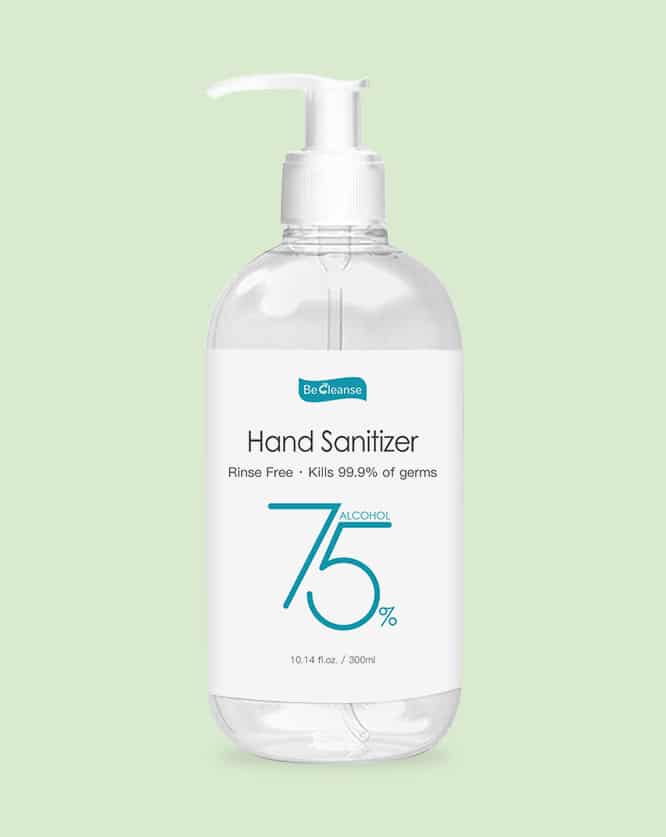 BeCleanse 300ml Hand Sanitizer Gel is formulated with virus killing power, plus leaving the skin with a mild and moisturizing effect. It contains 10.14oz of alcohol-based gel formulation, with 75% Ethanol and non-toxic ingredients. This large antibacterial hand gel is applauded by healthcare workers and staff in hospitals and medical laboratories.
One pump bottle can supply the needs of large crowds in hotels, restaurants, gyms, airports and supermarkets. One pump and hand application can easily deactivate the Coronavirus and prevent the spread of the disease.
BeCleanse is one of the largest hand sanitizer manufacturers in China, housing millions of inventories ready for fast shipping. You would largely benefit from our wholesale hand sanitizers, with its FDA-regulated formulation and reasonable prices.
Want your own company label on the hand sanitizer bottle? BeCleanse also offers private label services if you want to customize the branding and packaging of your hand disinfectant product at affordable rates.
---
Specification
---
Item
300ml (10.14oz) Hand Sanitizer Gel
Net capacity
300ml (10.14 fl oz)
Style
Bottle with pump
Main Ingredient
Ethyl Alcohol 75%
Purpose
Antiseptic, kill germs and bacterias
Use
Helps reduce bacteria on the skin when water is not available
Inactive ingredients
Water 20.9%
Glycerin 3.0%
Carbomer 0.5%
Phenoxyethanol 0.5%
Aminomethyl propanol 0.1%
Private Label
Yes
| | | | |
| --- | --- | --- | --- |
| Qty / Ctn | 40pcs/cnt | Qty/Pallet | 66ctn/pallet=2,640pcs |
| Meas | 50*35*19cm | Weight | 1,000kg |
| G.W. | 15kg/ctn | Dimensions | 105*120*224cm |
---
Composition / Ingredient Data.
---
According to the CDC guideline, use a hand sanitizer that contains at least 60% alcohol, and our hand sanitizer's main ingredient is 75% food-grade alcohol, which is safer to use.
| Chemical name | CAS No. | % (by weight) |
| --- | --- | --- |
| Ethanol (Alcohol) | 64-17-5 | 75.00% |
| Water | 7732-18-5 | 20.9% |
| Glycerin | 56-81-5 | 3.0 % |
| Carbomer | 54182-57-9 | 0.5 % |
| Phenoxyethanol | 67-63-0 | 0.5 % |
| Aminomethyl Propanol | 124-68-5 | 0.1 % |
Certificates
---
Our hand sanitizer not only meets the Chinese market and export standards, but also has the corresponding export qualification, meets the standards of the European market, has CE MSDS RoHS Reach certificate, in addition to the U.S. FDA certification, DUNS and NDC registration and coding.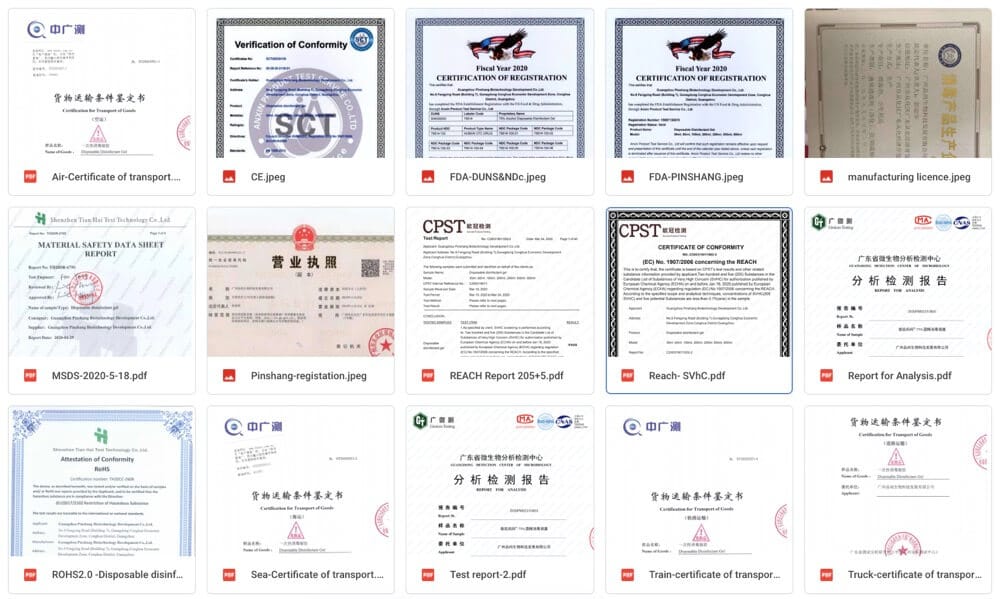 Private Label hand sanitizer
through 3 Simple steps.

Choose the hand sanitizer gel type of container, capacity, then we will send you label size.

After we've received your design, we will confirm the details with you.

After confirming the price and lead time, start production.
In stock and fast delivery hand sanitizer gel, sufficient production capacity and bottle inventory.
---
Professional rinse-free alcohol hand sanitizer gel supplier with complete export qualification. Currently, we have ample supply of raw materials such as bottles and pump heads, with a small amount of stock left on a daily basis on a first-come, first-served basis.
We ship daily and understand all the requirements for shipping.
Dangerous Goods Transport Certificate
Dangerous Goods UN Safety Package
Feel free to contact us if you have any further questions.
SEND US A MESSAGE
Request a quote
---
#302, Bld D
R.N Digital Industrial Zone
Baoan, Shenzhen 518100, China