Hand sanitizers are running out of stock in every store, but you can still buy online. You just have to click fast.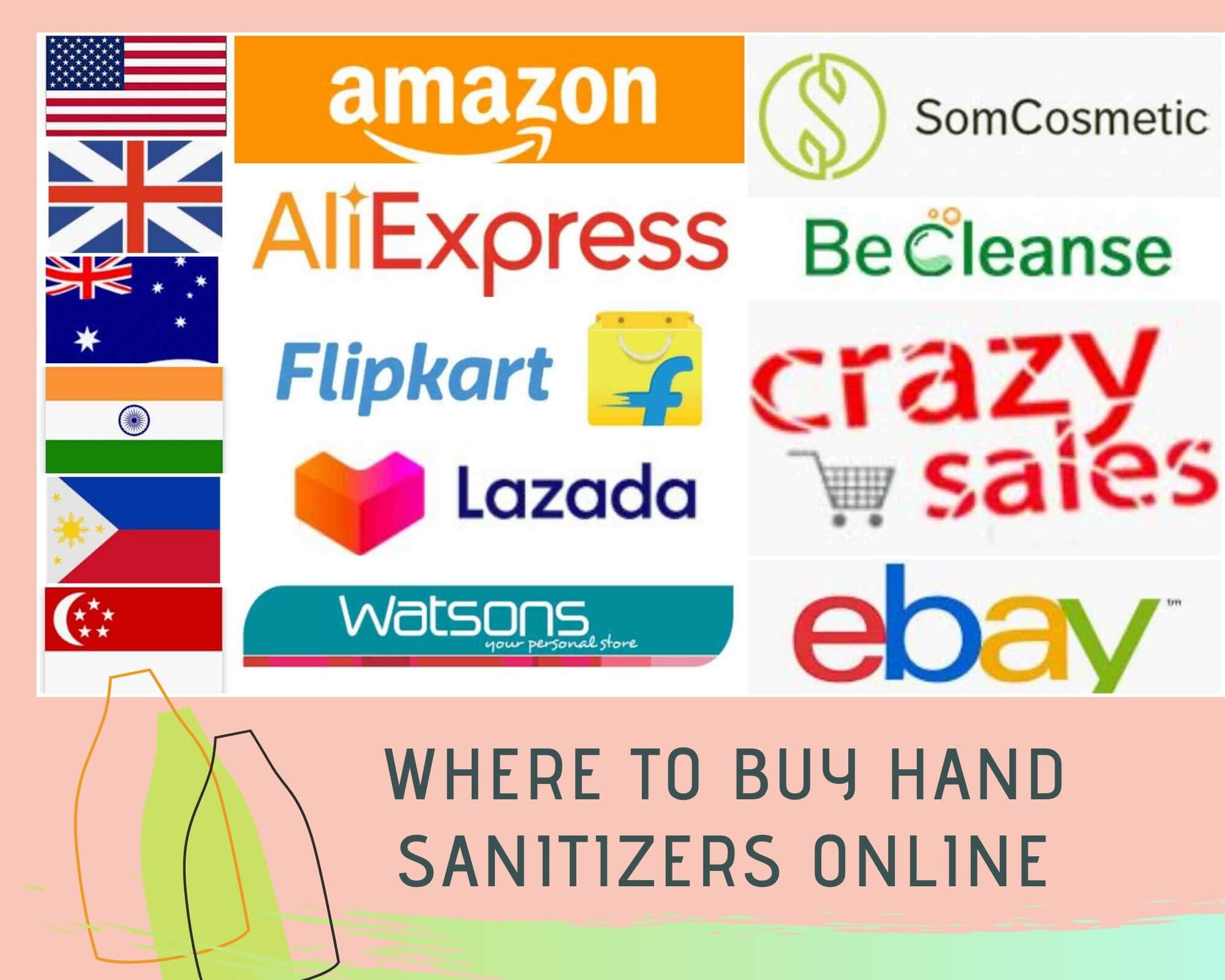 If it wasn't for the Coronavirus, many people wouldn't go crazy about hand sanitizers and cleaning.
Due to the unforeseen hit of the pandemic, people are fighting for survival. Every personal protective equipment (PPE), antibacterial detergents, soaps and sanitizers are ransacked in stores.
Are there re-stocks in physical stores?
Yes. Groceries and stores are being supplied with essential goods every week. But somebody always got to beat you first with the last remaining stock, right?
So you gave it a try to buy hand sanitizers online, but it gets difficult. Either they are sold out, or you're given a notice that hospitals are prioritized over the general public.
But hey, don't get your hopes down. Apparently, we did the digging on where you can still buy hand sanitizers online.
Here's a quick list. Remember to click fast as antibacterial hand sanitizers are running out very fast.
List of online stores where there's still stocks available – UPDATED
Where to Buy Hand Sanitizers In USA
Where to buy hand sanitizers in UK:
Where to buy hand sanitizers in Australia:
Where to buy hand sanitizers in Singapore:
Where to buy hand sanitizers in the Philippines
Where to buy hand sanitizers in India:
Where to buy hand sanitizers in Thailand
Where to Buy in Bulk: Suppliers Who Ship Anywhere in the World
Have you heard of importing products from China? It means ordering goods from manufacturers or suppliers in China even if you're from another country.
If you badly need hand sanitizer whether for yourself, your family or for a whole community, they are still in stock from manufacturers in China.
Here's where you can find bulk hand sanitizers with alcohol (60% to 80% concentration)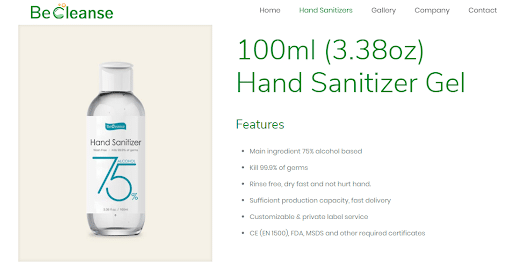 BeCleanse is a hand sanitizer manufacturer offering 75% alcohol-based hand gels and spray. They offer 100ml, 300ml, 500ml and other volumes in bulk and at an affordable cost. You can order for a minimum order quantity (MOQ) of 100 to 300 bottles (lower than competitors) for bulk orders. They also offer cheaper cost per unit for orders in pallets and private labeled hand sanitizers. Shipping can be free.
You can also order from AliExpress, but price per unit is higher than ordering from direct manufacturers. Add to that is the shipping fee.
Unlike buying from direct manufacturers who might offer you free shipping, AliExpress has shipping costs.
However, you can still save more when you buy from AliExpress than in retail shops online when you buy in bulk.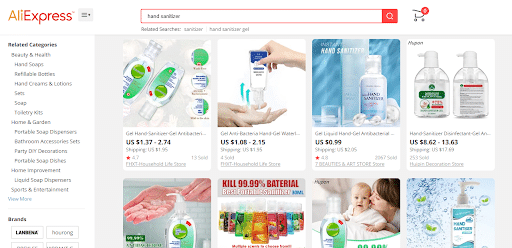 Same with AliExpress, Alibaba is a platform where you can buy hand sanitizers from suppliers in China. You can find great deals here as well ranging from $0.1 to $2 alcohol-based hand sanitizers. But you would have to order in bulk to avail this price per piece.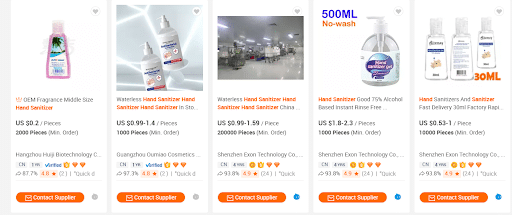 Frequently Asked Questions
What happened to hand sanitizer manufacturers? Why aren't they supplying enough?
Most hand sanitizers are manufactured in China. Since China was the first hit of the virus, hand sanitizer factories were closed and the country was on lockdown. This has affected the global supply chain movement.
Not only are hand sanitizers in scarcity. Other raw materials, pump heads and bottles, which are being exported to manufacturers worldwide, are in short supply.
Is anybody doing something about the hand sanitizer shortage?
People and especially healthcare workers and frontliners badly need these supplies. Because of this, local production of hand sanitizers emerged in many places around the world.
Distilleries, perfume and cosmetic factories and breweries took a stand by helping in the situation. Manufacturing facilities for producing alcoholic drinks were converted to hand sanitizer manufacturing.
Can I make my own hand sanitizer then?
While the World Health Organization (WHO) released a recipe on how to make hand sanitizers properly, many people can't quite follow through with the ingredients.
Others make homemade hand sanitizer gels with recipes based from different doctors.
However, it is better to get a hold of hand sanitizers produced by experts to guarantee the skin's safety against allergy or side effects.
Conclusion
Hand sanitizers are mostly out of stock in many stores and online shops. And it will be out of stock for the foreseeable future because even local production is given priority to hospitals.
Most probably you'll go home empty handed when you look for hand sanitizers in physical stores. If you order online it can be pending for a couple of weeks on your cart.
Therefore, we highly recommend importing from China. Lead time can be 3 to 7 days but depending on your country's logistics movement, it might take 20 to 30 days so place your orders as soon as you can.