In this complete hand sanitizer guide, prepare to have your intriguing questions answered by medical experts, doctors and hand sanitizer manufacturers.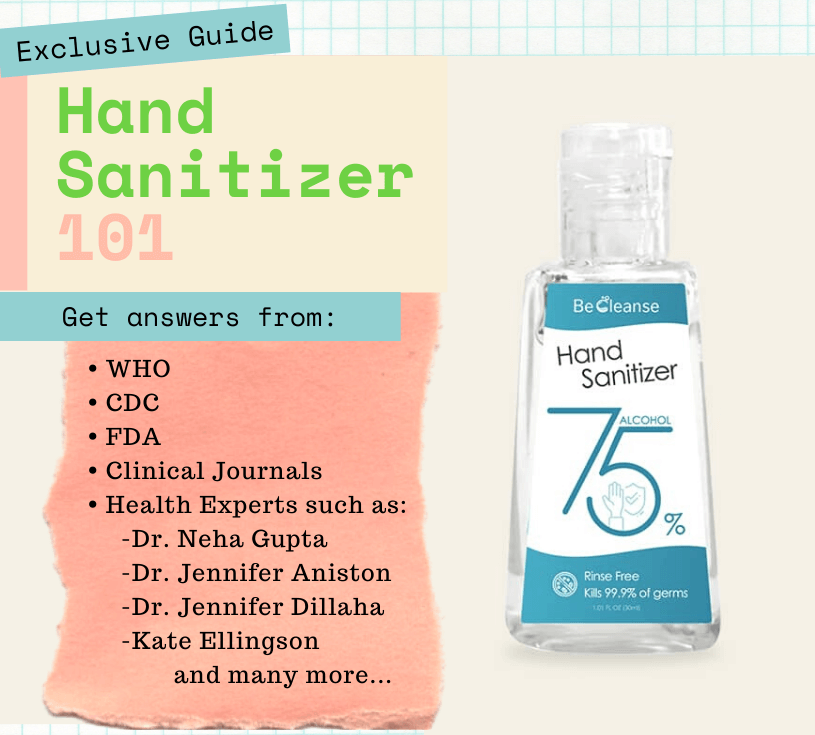 The new virus' sudden birth (SARS-CoV-2) has prompted a new norm in everyone's current lifestyle, which is, keeping their hands clean. This ongoing sanitation rampage has left many groceries and online shops with limited stocks for hand sanitizers.
While washing the hands with soap and water should be the foremost concern, hand sanitizers do eliminate the need to be constantly near a sink. What's more, hand sanitizer gels smell good, and feel more soothing on the skin than using pure alcohol.
But do you know there is a lot of confusion when it comes to hand sanitizer usage?
To put these misconceptions to rest, we leave the explanations to medical field experts and famous manufacturers in this comprehensive guide.
This will be your ultimate, one-stop resource when it comes to informational ideas, tips and how to's on hand sanitizers.
---
HAND SANITIZER BASICS
What is a Hand Sanitizer?
Before we go further, let's first define what a hand sanitizer is.
In context, a hand sanitizer is a liquid gel or foam which is rubbed on the hand surface to disinfect it, or remove any trace of dirt.
Here's a good definition from the Encyclopedia Britannica:
"Hand sanitizer, also called hand antiseptic, hand rub, or hand rub, agent applied to the hands for the purpose of removing common pathogens (disease-causing organisms). Hand sanitizers typically come in foam, gel, or liquid form."
Types of Hand Gels
There are two types of hand gels. These are the alcohol-based hand rubs and alcohol-free hand rubs.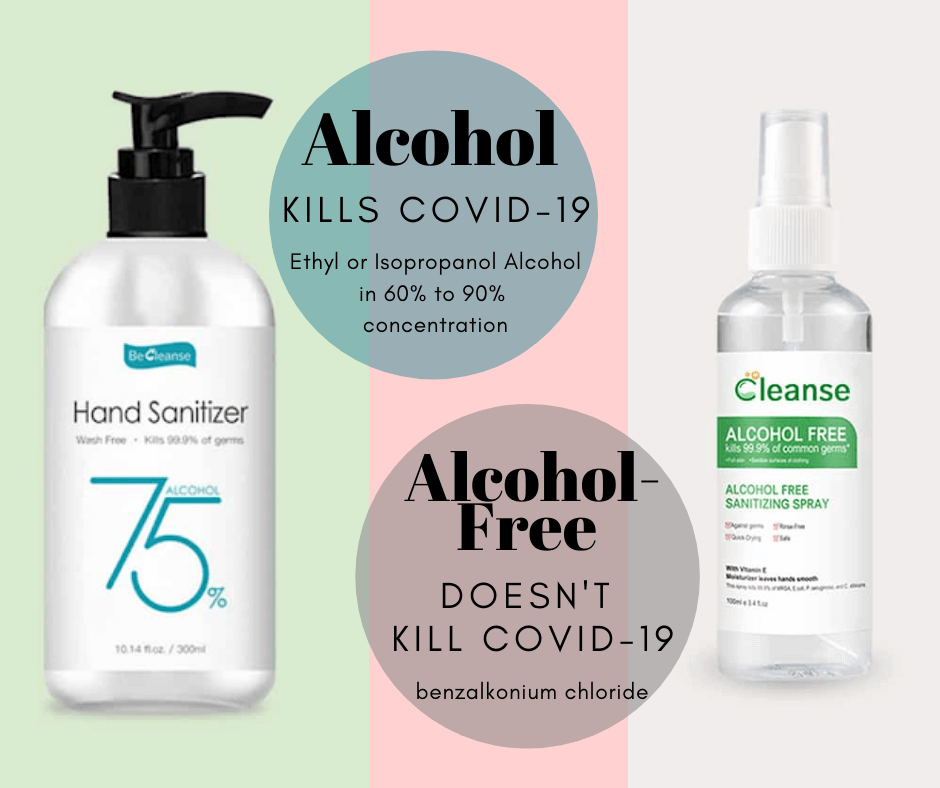 Alcohol-based hand sanitizers usually contain 60 to 90% alcohol. On the other hand, alcohol-free products are most commonly based on hand disinfectants.
Usually, non-alcohol products contain benzalkonium chloride (BAC) as its active ingredient. Alcohol-free hand rubs cannot eliminate COVID-19 virus as much as alcohol-based products.
To know more about the active ingredients, you may jump down below for a detailed discussion.
What are the Benefits of Hand Sanitizer?
"The benefits of alcohol-based disinfectants and hand sanitizers have been known for a long time. This goes beyond Covid-19, but you should be using hand sanitizers when you have touched any common surfaces, like tables or door handles," says Neha Gupta, a Infectious Diseases Consultant at the Fortis Memorial Research Institute.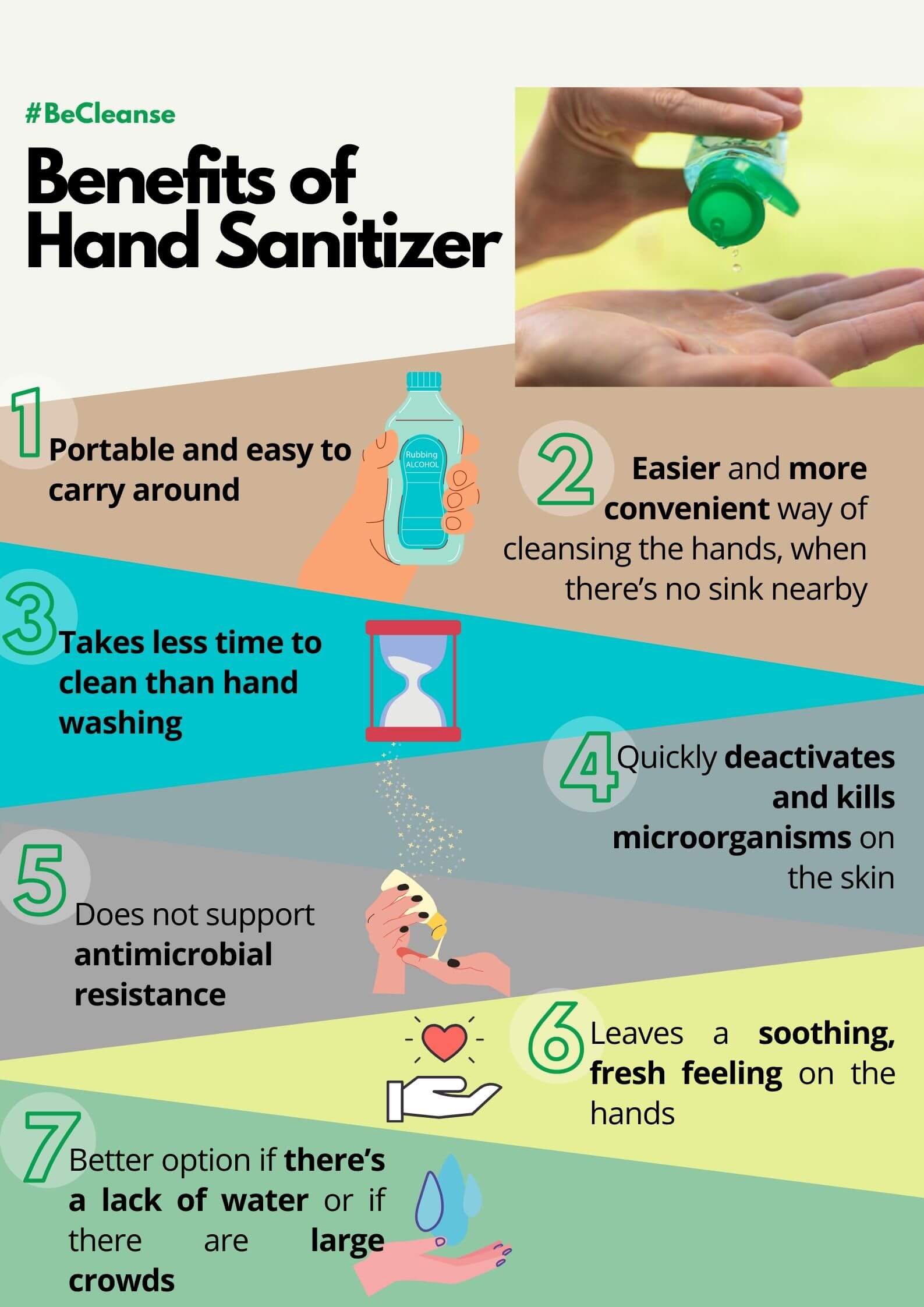 In the hospital where frequent hand cleaning and disinfection of certain types of PPE is needed, hand sanitizers are used at best. It helps prevent cross-contamination, and transfer of Covid-19 and other germs, especially from one patient to another or to other healthcare personnels (HCP).
Here are the immediate benefits of using portable hand sanitizers.
Easier and more convenient way of cleansing the hands, when there's no sink nearby
Takes less time to clean than hand washing
Quickly deactivates and kills microorganisms on the skin
Does not support antimicrobial resistance
Portable and easy to carry around
Better option if there's a lack of water or if there are large crowds
Leaves a soothing, fresh feeling on the hands
Improves skin condition, while disinfecting the hands
What is the Science Behind Hand Sanitizer?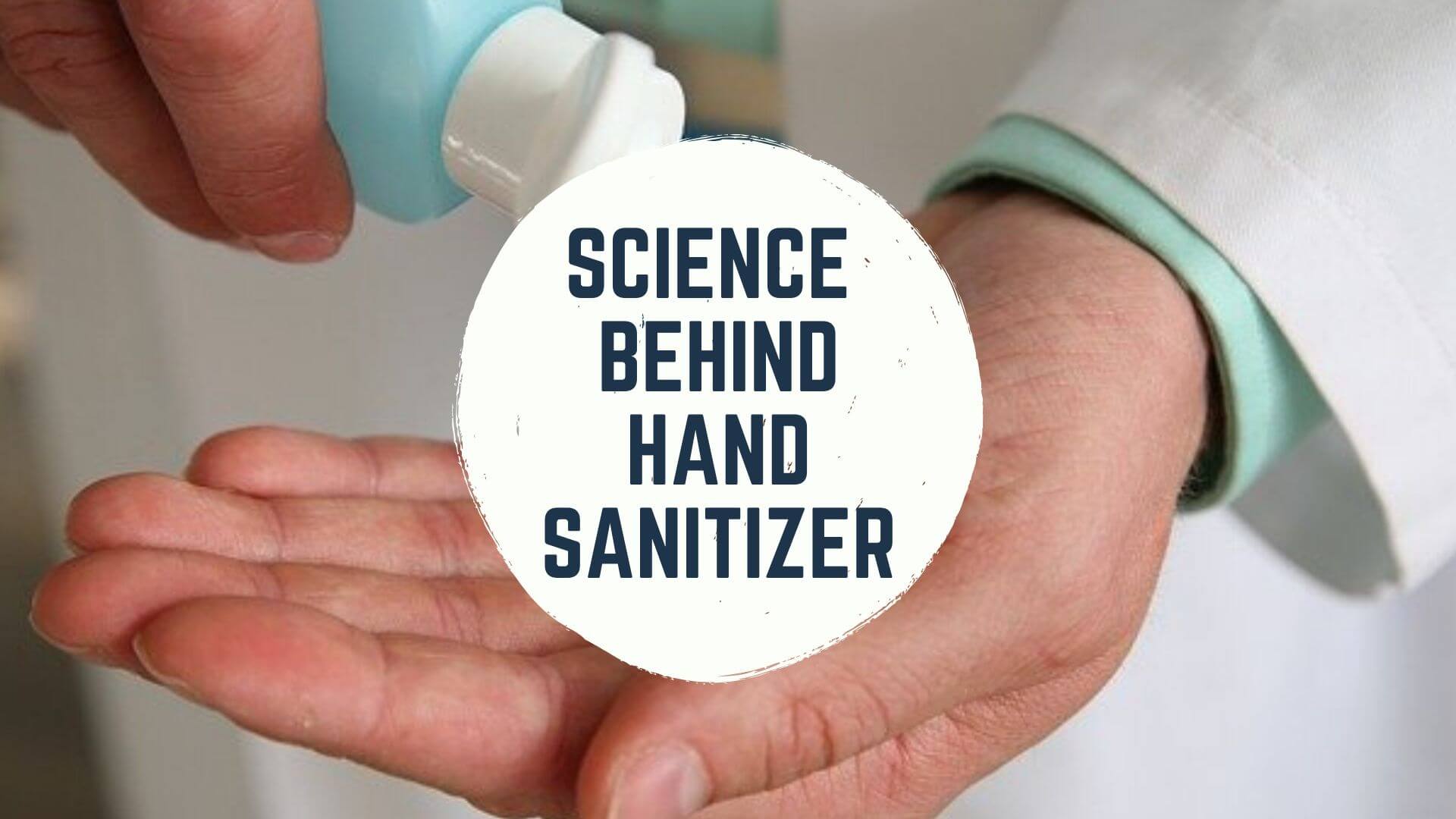 Due to the Covid-19 Pandemic, the Centers for Disease Control and Prevention (CDC) recommends the following on the usage of hand sanitizers.
"Use Alcohol-based Hand Rubs with greater than 60% ethanol or 70% isopropanol in healthcare settings," according to CDC.
But why specifically use hand sanitizers with alcohol?
The science behind hand sanitizer simply explains how an alcohol hand rub can immediately reduce microbes and kill germs on the hands with the right concentration. To fully understand its disinfecting capabilities, we must first understand how alcohol kills viruses.
Alcohol's Discovery as an Antiseptic
Even in the Medieval Period, people are already aware about the role of alcohol in disinfecting wounds. It was only in 1875 that alcohol was scientifically proven as an antiseptic.
L. Buchholtz proved the use of Ethanol alcohol as an antimicrobial solution in a study. Apparently, alcohol can kill germs by weakening the protective layer of the bacteria by protein denaturation in the process of cell lysis.
90% alcohol can also disrupt microbial activity of many viruses than other ways of hand washing. For example, Isopropyl alcohol can kill 99.99% germs in only 30 seconds or less.
In 1880, many hospitals began using alcohol in surgeries. But healthcare workers were ones using pure alcohol, which makes the hands dry and cracked.
Still, after the discovery of the antibacterial power of alcohol, hand sanitizers were not invented, yet.
When Was Hand Sanitizer Invented?
Surprisingly, when hand sanitisers became one of the major necessities, people started paying attention to where it originated. Who invented hand sanitizer – an alcogel solution powerful enough to kill the deadly Coronavirus? Digging deeper, we found three famous existing claims on the invention/origin of the hand sanitizer.

1. 1945/1988 by GOJO's Founders, Goldie and Jerry Lippman
According to Purell's Manufacturer, GOJO, their founders Goldie and Jerry Lippman made the first waterless hand cleaner.
This couple mixed mineral oil, petroleum jelly and about 5% alcohol and called this alcogel solution "GOJO". It was sold in jars for rubber plant workers so they can get rid of harmful chemicals off their hands after work. Not bad for finding an opportunity in times of need.
However, it wasn't until 1988 before they introduced the first gel sanitizer to the market and named it as Purell.
2. 1966 by a Bakersfield Nursing Student, Lupe Hernandez
There's no solid evidence if this claim is true. According to supporters, Lupe Hernandez invented the first alcohol-based hand sanitizer. While it was not indepthly investigated in the past, in 2020, researchers started digging into this claim. A National Museum in Washington D.C., Lemelson Center, even tried to find any clues about this story, but turned up empty handed.
The story tells of a young American Bakersfield nursing student named Lupe Hernandez who was able to make a hand disinfectant with 65% alcohol. She further said that this alcogel solution can kill germs on the hands, even without the use of soap and water.
3. 1965, Sterillum by HARTMANN
Hartmann is a German manufacturer who also claims the invention of the first alcohol-based hand disinfectant in 1965. According to the company, the first batch production of hand sanitizers were at their factory at Hamburg-Stellingen. The first Sterillium is made of 75% alcohol and glycerin.
Up until now, the true origin of hand sanitizer remains a mystery. But the ones we discussed above are the three most popular claims.
What is Hand Sanitizer Made Out Of?
To make an effective hand sanitizer, companies make use of proven formulations. Hand sanitizer formulations should meet with FDA guidelines as this is sold as an over-the-counter drug.
The guidelines also address the various points in hand sanitizer production such as:
Manufacture of safe, consumer-grade alcohol;
Compounding/mixture of chemical components of hand sanitizers by pharmacists;
The preparation of hand sanitisers for internal use and public use.
Consequently, its ingredients should not irritate the skin, nor should it be lethal when accidentally ingested. Also, its manufacture, marketing and safety are also regulated by the FDA. In fact, the FDA released and recently updated the manufacturing and compounding of alcohol-based hand sanitizers. This guides manufacturers in the proper production of alcohol sanitisers and ensures that impurities are at most eliminated from the Ethanol.
The World Health Organization (WHO) also provided guidance on the local production of alcohol hand sanitizers to aid its shortage. The basic ingredients of a gel hand sanitizer are an active ingredient (Ethanol or Isopropyl), Glycerol, and Hydrogen Peroxide.
What is the Active Ingredient in an FDA Approved Hand Sanitizer?
A hand sanitizer formulation may contain active ingredients as approved by the FDA:
Ethyl Alcohol
Isopropyl Alcohol
Benzalkonium Chloride
These three active ingredients in hand sanitizers are eligible under FDA regulations used by healthcare personnel and consumers. However Benzalkonium chloride is less reliable when it comes to deactivating certain viruses and bacteria. That's why it is also recommended to find alcohol-based products with Ethanol or Isopropanol.
What Percentage of Alcohol in Hand Sanitizer is Effective?
According to the WHO, hand sanitizer manufacturing requires a high concentration of pure alcohol, which is around 96%. Upon mixing with other ingredients, the final product would be about 60-90% concentration.
What are the Other Ingredients in Hand Sanitizer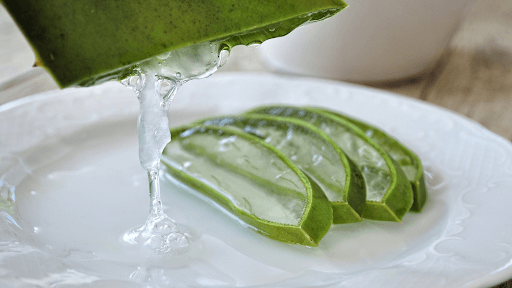 There are also other ingredients aside from Alcohol such as conditioners or moisturizers, which make the skin smooth. Bitter additives or denaturants are also added to discourage people from drinking it. This also helps in deterring children from ingesting hand sanitizers due to its bad taste.
Some other additives found in hand sanitizer are also found in a lot of cosmetics formulation. This is one of the reasons why some cosmetics manufacturers have found it easier to retool production lines to make hand sanitisers.
Here are other ingredients you may find in a hand sanitizers:
Carbopol – provides gel-like texture. However, hand foams in pump bottle dispensers usually have lower viscosities to provide efficient dispersion.
Humectants or Moisturizers like Glycerin
Fragrance (usually not included in non-scented hand sanitizers)
Coloring (not included in clear hand sanitizers)
Bitter-tasting compound or denaturants – to prevent consumers from drinking the hand sanitizer
What Are the Bad Ingredients In Hand Sanitizer?
Because of the Covid-19 disease, proper hand hygiene has been the ultimate concern of today's era. But many people have also believed that overuse of hand sanitizers or soaps can lead bacteria to grow stronger or develop antibacterial resistance.
Guess what, in 2019, the US FDA banned 28 ingredients which can be harmful or cause bacteria mutation in liquid soaps, bar soaps and instant hand sanitizers. This means you would not have to worry much about bad ingredients in consumer hand sanitizers.
Among the banned chemical compounds in previous formulations is Triclosan. The latest study provides proof of triclosan-based hand gels' effect on bacterial resistance to antibiotics.
Researchers also found out that bacteria exposed to triclosan can dramatically develop immunity to antibiotics. In fact, one out of 10 bacteria subjected to triclosan can survive antibiotics.
How Hand Sanitizer Works to Kill Viruses
In 2004, a study was published under the Clinical Microbiology Reviews Journal which says:
"Ethanol, Isopropanol or N-propanol at around 60 to 80% attacks viruses and some pathogens by destroying their protective cell structure. Some alcohols may partially destroy the outer envelope of the virus, while others just break down the cells."
The study further says:
"The Coronavirus has a fatty envelope. These lipid-covered viruses can be killed with alcohol-based disinfectants which include hand sanitizers. They dismember its body and membrane of fat, and disables it to infect a person. Soap, on the other hand, is a surfactant, which is also an effective hand disinfectant."
How Does Hand Sanitizer Eliminate Microbes
For a long time now, alcohols and alcohol products have been known to eliminate microbes by killing and removing their protective protein layer. This eventually disrupts its metabolism and deactivates its activities.
Alcohol hand rubs also kill antibiotic resistant bacteria and Tuberculosis bacteria. Many kinds of microbes are also killed such as flu, colds and HIV.
What Survives Hand Sanitizer
Although hand sanitizers are effective in killing viruses, it doesn't eliminate all kinds of disease-causing bacteria.
"What we are doing is reducing the number, and getting rid of the germs that can make a patient sick or in this case make us sick," according to Dr. Jennifer Ashton, Physician, Author, and Television Correspondent for ABC News and Good Morning America.
While antibacterial gels can eliminate viruses, some bacterial spores that do not have envelopes. This includes Norovirus. Encysted parasites are also resistant to antibacterial gel, such as Giardia. Moreover, hand sanitizers do not work effectively when your hands are clearly greasy, soiled or smeared with harmful chemicals.
What Germs Does Hand Sanitizer Not Kill
Here are examples of germs which hand sanitizers may not completely kill:
Clostridium difficile – An infectious bacteria which is responsible for intestinal inflammation.
Cryptosporidium – A parasitic infection which causes gastrointestinal and breathing issues.
Norovirus – non-enveloped, single-stranded RNA virus which causes diarrhea and vomiting.
Is Norovirus Resistant To Alcohol-based Hand Sanitizer?
Although there is much debate as to whether hand sanitizers are ineffective against Norovirus, according to the CDC's Updated Norovirus Outbreak Management and Disease Prevention Guidelines there's no solid evidence on the matter.
"The efficacy of alcohol-based and other hand sanitizers against norovirus remains controversial," says the CDC.
To prevent getting sick from Norovirus, studies suggest that the best way is to wash the hands properly. Soap and water is the most effective hand hygiene solution. On the other hand, hand sanitizers may also serve as an effective alternative for handwashing.
What is the Proper Usage for Hand Sanitizer
The best way to kill viruses on your skin using a hand sanitizer is by applying it the right way. You need to apply the right amount.
In fact, a study performed on the evaluation of hand hygiene technique among health care professionals revealed this:
"Applying hand sanitizer in the wrong way can leave bacteria after hand antisepsis," says Andreas Widmer and Marc Dangel.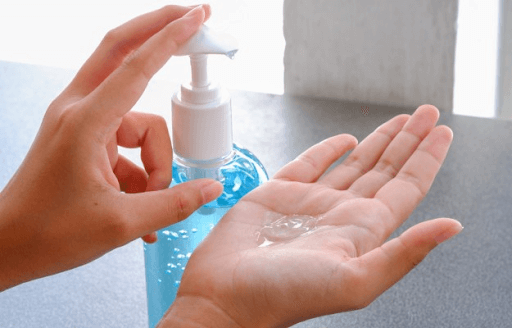 A dime-size amount squirted on the palm would be enough for applying hand sanitizer gel.
Massage your hands together and cleanse for 15 to 30 seconds. Make sure to cover every fingertips, both palms and the back of the hand.
Afterwhich, do not immediately touch anything until the product dries on your hands.
In the video below, watch how to apply gel hand sanitiser correctly to kill Covid-19 on the hands.
Following the steps above can effectively kill or reduce the number of bacteria, fungi and enveloped viruses.
How Long Does Hand Sanitizer Last On Your Hands
In a latest survey, more than half of the US population falsely believe that antibacterial hand gels are still effective even after two minutes!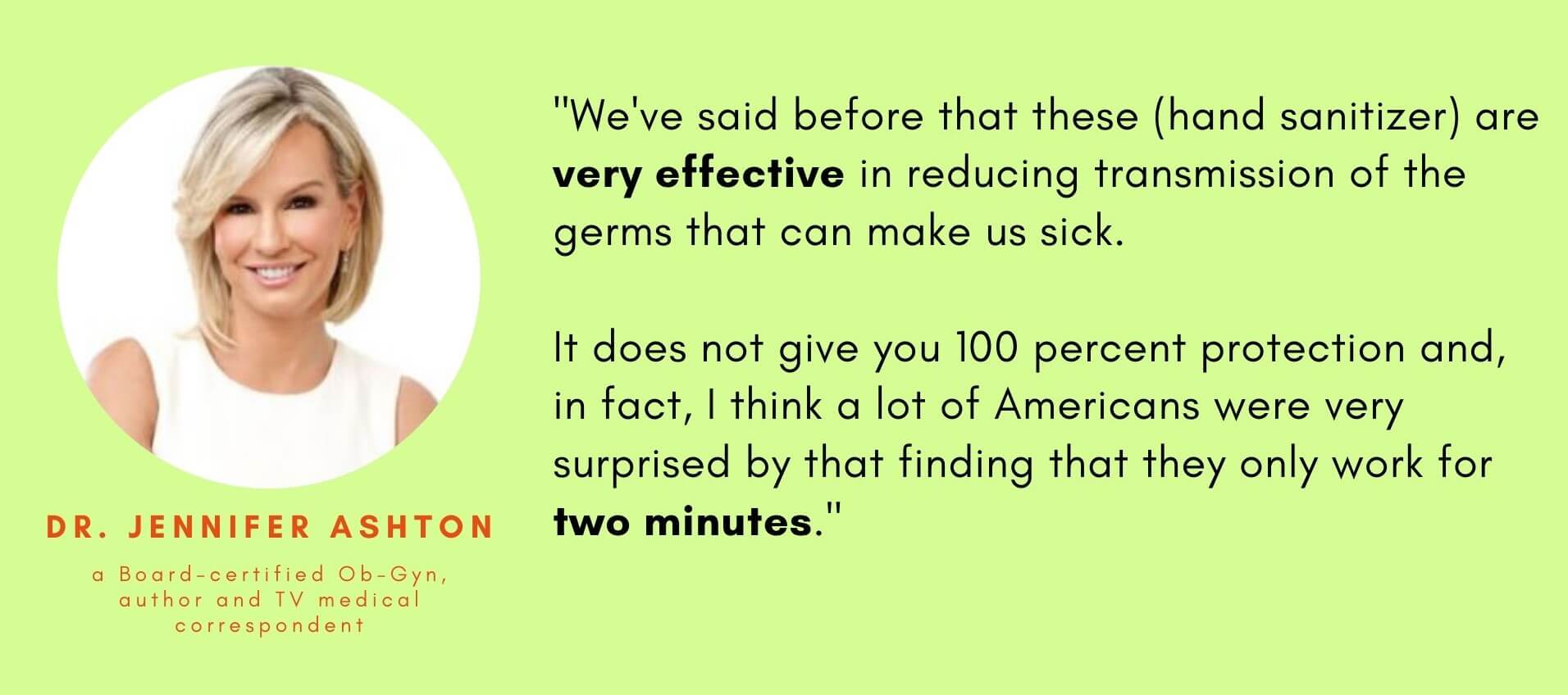 The fact is, hand sanitizers applied on the skin only kills bacteria on-hand and can only last for two minutes. Furthermore, it doesn't wash away stuff, like what handwashing can do.
However, on "Early Show", Dr. Jennifer Ashton tells co-anchor Harry Smith that "it's an important two minutes, though".
Dr. Ashton further says:
"We've said before that these are very, very effective in reducing transmission of the germs that can make us sick. It does not give you 100 percent protection and, in fact, I think a lot of Americans were very surprised by that finding that they only work for two minutes. Doctors and surgeons like myself, not so much so. We know when we scrub in before a surgery, we are not eradicating all bacteria from our hands."
How Often Can You Use Hand Sanitizer
Use hand sanitizer whenever there's no soap and water available;
Hand sanitizer only kills germs on the hands at the time it is used, so use it whenever you held onto something infectious or dirty;
A good rule of thumb when it comes to hand sanitizing is to apply it once per hour.
Dr. Jennifer Dillaha, the Arkansas Health Department's medical director of immunizations and outbreak says,
"It is possible to contaminate your hands immediately after using hand sanitizer. So, everyone should wash hands or use hand sanitizers often, especially after known contamination, such as blowing your nose."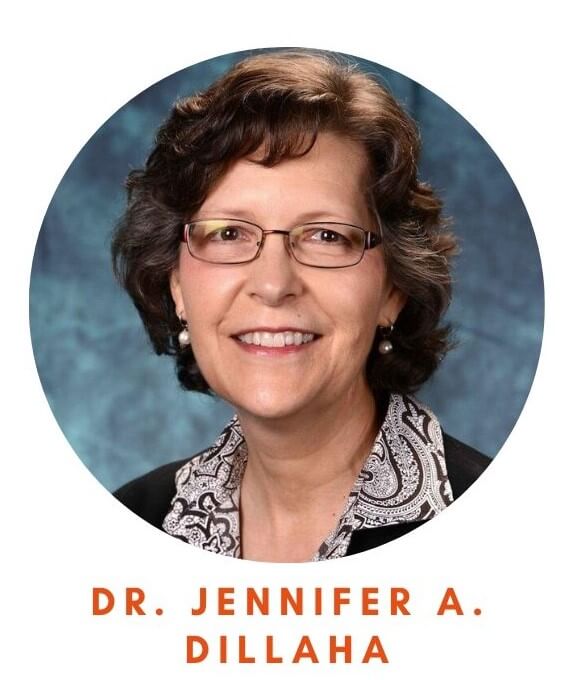 Remember, good hand hygiene makes a whole lot of difference. In fact, according to a study conducted by the University of Michigan, four out of five germs that cause disease and illness are spread by our hands!
Given this information, hand sanitizing is very important and should be used often, especially if you are outside your house. Applying once per hour is a good rule of thumb.
When Is It Best For Healthcare Staff To Use Hand Sanitizer In Hospitals?
According to Kate Ellingson, a healthcare epidemiologist in CDC's division, hand sanitizers are convenient to use for medical professionals due to the constant need of keeping the hands clean in healthcare settings.
"Hand sanitizer is promoted so widely because it's efficient, accessible and takes relatively very little time to use. There's potentially a large tradeoff in switching back to soap and water in the health care setting, where workers have to wash their hands many, many times per shift, or even hour, depending on what they're doing," Ellingson further says.
Healthcare professionals also need attention to comply with proper hand hygiene, which means application should cover the fingernails, fingers, thumb and around the wrist. A duration of at least 30 seconds is usually followed and the hands are allowed to dry in air.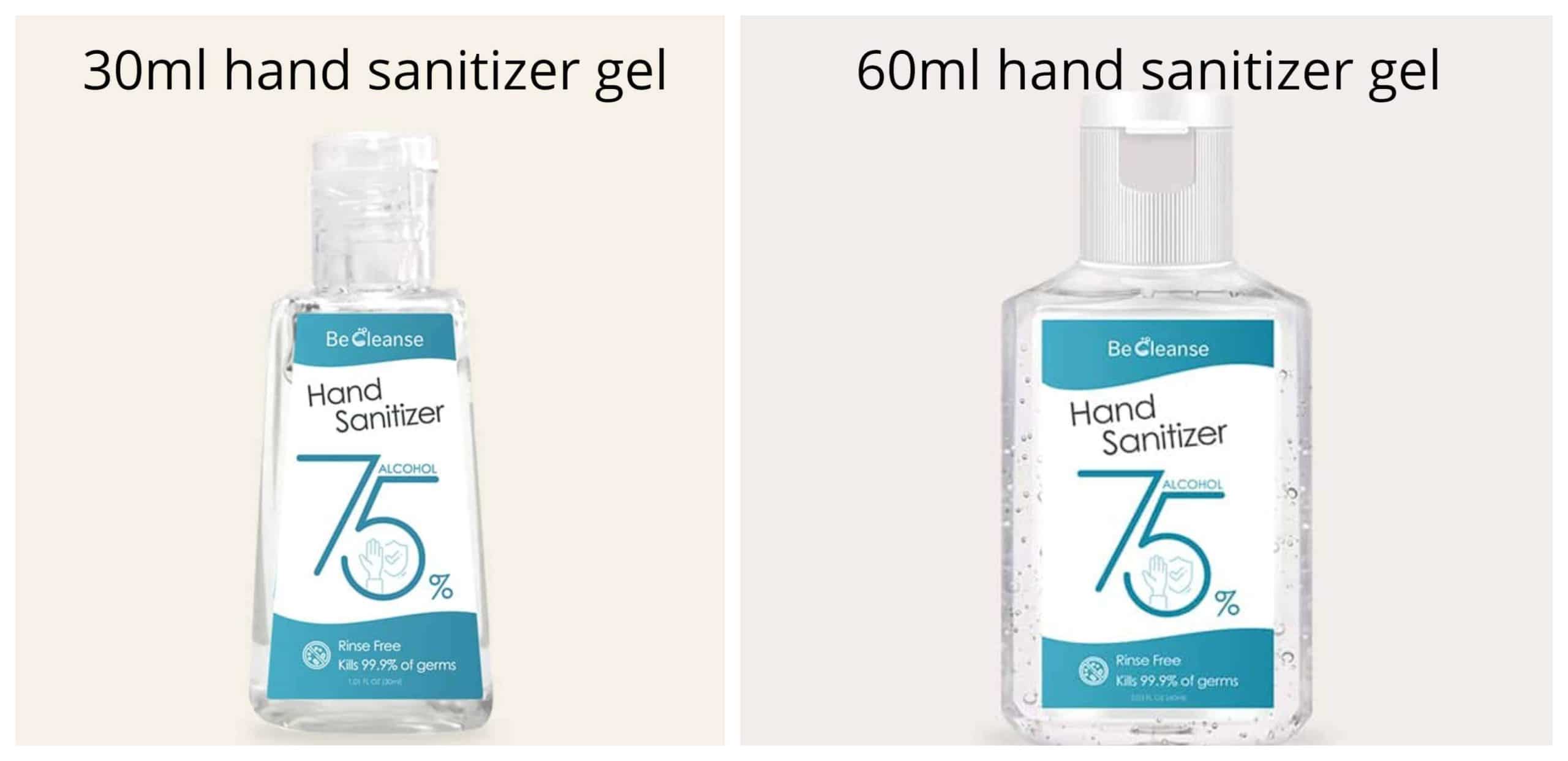 "The pocket sized bottle hand sanitizer, 30ml or 60ml bottle version, significantly improves doctors' compliance with hand hygiene," says Anne Simon of the Université Catholique de Louvain, Department of Microbiology, Infection Control.
When To Use Hand Sanitizer If You're a Healthcare Worker
When entering and exiting a patient's room in hospitals
Everytime you need to check on a patient, with or without wearing your gloves
After checking on a patient
After removing your gloves
While checking on a patient, especially if you touched fluids or done catheter care
After handling bedpans or dressings whenever handwashing sinks are not available
Before touching medications
When preparing food
When you sneeze, cough or use the toilet and water and soap is not available.
When to Use Hand Sanitizer for Patients, Watchers or Visitors
When handling patient care
Use waterless hand sanitizer before eating
Before, during and after preparing food or medications
Before and after changing diapers
After going to the bathroom
When healthcare workers visit the room
After handling catheter holders or soiled towels
After handling contaminated objects
After sneezing, coughing or blowing your nose
Before giving medicine
Before and after visiting the patient in the hospital or nursing home.
Why Is It Bad To Use Too Much Hand Sanitizer
When it comes to the concern that using too much hand sanitizers can pose a harmful threat of developing antibiotic resistance, there's no scientific backing that it does. The good news is, bacteria cannot be immune to a higher form of infection. This means it cannot become stronger upon alcohol application, nor does it develop stronger protein.
So why is it bad to use too much hand sanitizer? Let's put the question to Alex Berezow, a Microbiologist and the Vice President of Scientific Communications at the American Council on Science and Health.
"Using too much hand sanitizer dries your hands out, and they can crack and bleed. If you have a skin condition like eczema, this could exacerbate it," he says.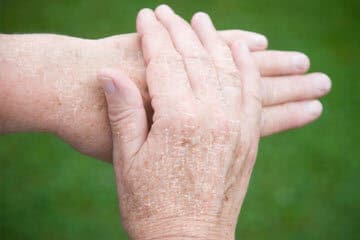 And this is also the reason why cuts burn if hand sanitizer is on it. Your hand dries from too much alcohol, they'd crack and bleed. When you put alcohol gel on it, it seeth through the scar and it would hurt.
Hand Sanitizer vs Soap and Water – Which is Best?
According to the Centers for Disease Control and Prevention (CDC), it is still recommended to hand wash with soap and water whenever possible. Soap and water is much more capable of reducing germs, as well as harmful chemicals, you may have touched.
As handwashing cannot be viable anytime, the use of hand sanitizer with at least 60% alcohol can be helpful in reducing and spreading germs to others. Based on several studies, the CDC says that sanitizers with 60-95% alcohol concentration are more effective in killing Covid-19 or germs than with those products having lower concentration.
Hand-based sanitizers with lower concentration may not work against various types of germs, and may just slow germ growth rather than killing them.
Why Is Soap And Water More Effective Than Hand Sanitizer
The practice of handwashing with soap and water is absolutely more effective than hand sanitizers. According to the CDC, soap and water is proven to be effective in removing germs such as norovirus, Cryptosporidium, and Clostridium difficile.
Yes, alcohol-based hand sanitizers are able to inactivate various types of microbes as effective as hand washing, people may apply a smaller volume of sanitizer than recommended, or may misuse it by wiping it off before being dried.
In cases where visible dirt or grease are the contaminants, hand sanitizers would not be as effective as washing them off. Several studies show that hand sanitizers work well against germs, but generally are not heavily soiled or greasy. For this reason, hand sanitizers fit well in clinical settings like hospitals and medical centers.
Furthermore, some data also show that hand sanitizers may work against some types of germs, even on slightly soiled hands. Yet, hand sanitizers may not be recommended as a substitute for handwashing in such settings, like in establishments handling food, engaging physical activity and sports, and outdoor settings such as camping or fishing. In those circumstances, handwashing is highly recommended.
What Happens If We Use Expired Hand Sanitizer?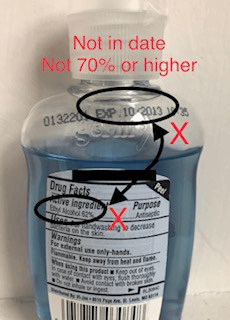 So far, the FDA has not provided information on the reliability of hand disinfectants after their expiration date. However, during this dire situation of hand sanitizer shortage, you can still use expired hand sanitizers if you don't have any new stock.
Hand sanitizers have been in a 1400% short supply since January. Although the FDA has released a temporary hand sanitizer production for distilleries, the shortage is still prominent.
A lot of manufacturers have dedicated stocks for donation in public hospitals and health care facilities. Public agencies, however, have suggested ignoring the expiry date of hand sanitizers for now.
According to Suzzan Willard, PhD, Hand sanitizers "can still be used.". She further adds that "it is still better than using nothing. A liquid and some rubbing friction can help rid your hands from a few germs."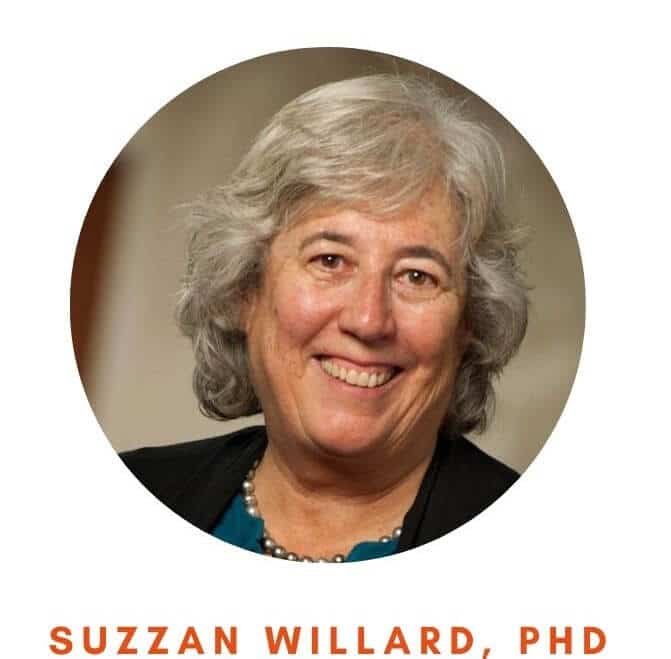 If the bottle has not been opened yet, there should only be less alcohol that would have been evaporated. This means unopened bottles that's expired are more effective than opened bottles that have stayed way past their shelf-life.
Furthermore, BeCleanse's CEO further says in an interview that "the alcohol volume of hand sanitizers after expiry may have dropped to 60% or less. However, it should be able to still eliminate some viruses at that point."
What Happens If You Swallow Hand Sanitizer
Even alcohol-based hand sanitizer kills viruses, swallowing them is harmful and can only get you sick, or even worse, die from alcohol overdose. This misbelief has led over 300 Iranians to die after drinking methanol, thinking it would rid the Coronavirus.
Scientifically speaking, hand sanitizers are less harmful than methanol, and may just cause intoxication. However, that does not mean you can be negligent about the use of sanitizers especially near children as it can be more serious for them.
How Much Alcohol In Hand Sanitizer
Alcohol-based hand sanitizers typically contain 60%-98% alcohol, with about 60+% ethanol or 90-99.8% Isopropyl. Also, these products have other ingredients that can have negative effects when ingested. Propylene glycol, which is contained in most alcohol, can affect the nervous system. Also, substances used for fragrance can be toxic.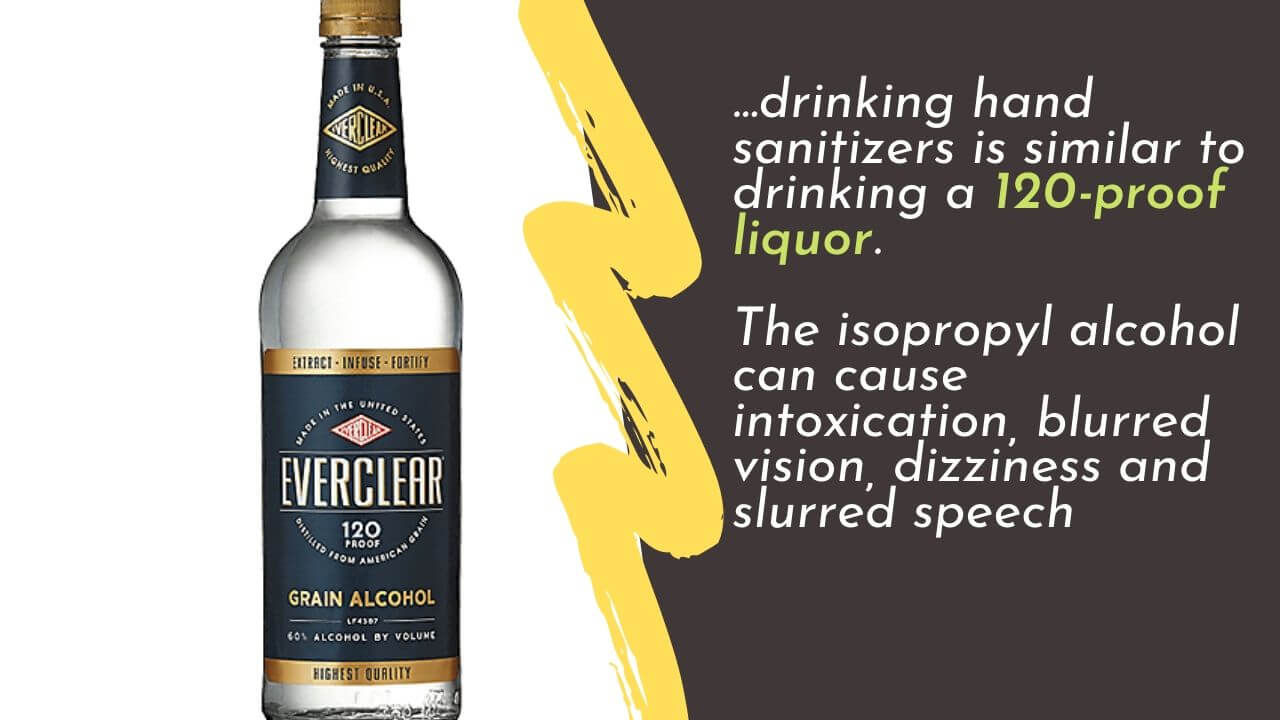 In comparison, drinking hand sanitizers is similar to drinking a 120-proof liquor. The isopropyl alcohol can cause intoxication, blurred vision, dizziness and slurred speech.
How Much Hand Sanitizer Can Kill You
Hand sanitizer ingestion can be a cause of alcohol overdosing since hand sanitizers have high alcohol content. There are many possible harmful effects, from affecting the nervous system, internal organs. It may also cause kidney failure, liver or brain damage, blindness, or even death.
What To Do If Child Ingested Hand Sanitizer
In cases of accidental ingestion of hand sanitizers (especially children), take them to a clinic or hospital immediately. But since it may be difficult to get into a hospital these times, you can give the child sweets or sugary drinks to increase their blood sugar. However, when your child feels respiratory problems, extreme abdominal pain and irritation, the child needs medical attention right away.
What Effect Does Hand Sanitizer Have On Your Liver
The direct consumption of alcohol is known to pose risk of diseases to organs like the liver, pancreas, the heart and the cardiovascular system.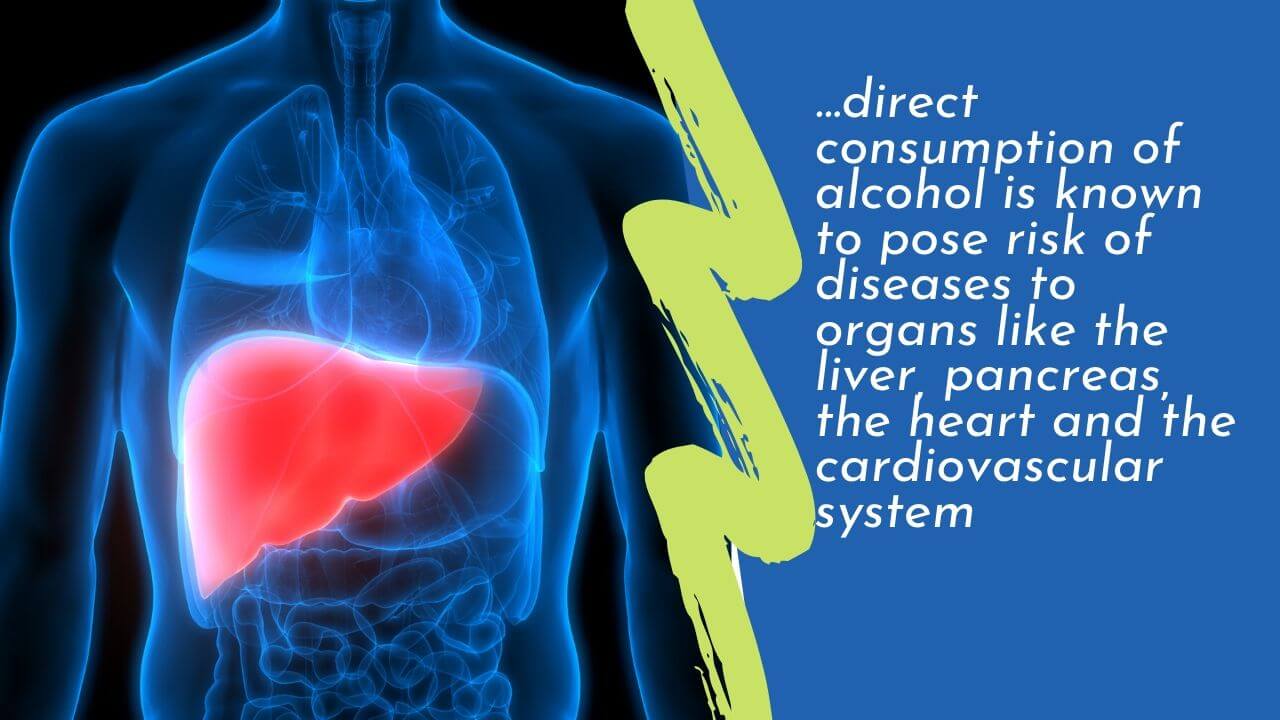 However, in the case of hand sanitizers and other alcohol based hand rubs, more studies are being conducted relating to the effects of inhaling them.
So far, there is no evidence that leads to harmful effects in the use of alcohol-based sanitizers.
A study from the National Institute of Health calculated the alcohol-based sanitizer usage of a nurse in a workday. From the study, the inhalation of alcohol is 30 times lower than the harmful level of alcohol intake.
This signifies that there is no health threat in using alcohol-based sanitizers in terms of inhalation.
Common Hand Sanitizer FAQs, Answered
1What is Hand Hygiene?

Hand hygiene is cleaning the hands in a proper way, covering all surfaces. This includes the back and front of the hand, nail beds, fingers and up to the wrists. Soap and water or an alcohol-based hand sanitizer is used for proper hand hygiene.
2Can I use an alcohol-free hand sanitizer for hand hygiene?

No. To reiterate, alcohol-free hand sanitizers containing benzalkonium chloride are not effective for all types of bacteria. Specifically, benzalkonium chloride only kills

gram positive bacteria

, having no lipid membrane. It's not effective against killing Coronavirus, which is a gram negative bacteria having a lipid membrane.

In many DIY alcohol-free hand sanitizers, you'd find witch hazel instead of alcohol. However, witch hazel is not reliable in killing germs.
"There is no confirmatory evidence that witch hazel is effective as an antiseptic," says infectious disease expert Amesh A. Adalja, M.D., senior scholar at the Johns Hopkins Center for Health Security.
3Can gloves be worn as an alternative for hand disinfectants?

No. Surgical gloves or clean gloves cannot be used as an alternative for hand hygiene. Every after patient care, gloves should be discarded and you should wash your hands or apply hand sanitizer. The same is followed in every hospital procedure.
4Why do I need to wash my hands or apply hand disinfectants after I remove my gloves?

Gloves are designed only to provide a barrier whenever you need to handle a patient's body fluid or in surgeries. However, gloves have micro holes and it increases the longer you wear them. Thus, microbes can enter the skin. Gloves can also be contaminated with germs while you are removing them. Hence, your hands can acquire germs when you remove your gloves which means you need to hand disinfection.
5Does Alcohol Based Hand Rub cause skin irritation?

The frequent use of alcohol-based hand rubs rarely cause skin irritation. It does not usually pose any problems on the skin's lipid layer than when using soap and water. In addition, your hands would be much healthier when you frequently use consumer-grade hand sanitizers.

There may be reported cases of skin dryness, or cracking when you are often practicing hand hygiene. This type of skin reaction is called contact dermatitis and it often results in hand itching, dryness and bleeding. However, these skin problems usually occur when performing hand hygiene with soap and water.
6What do I do if I get skin irritation when using hand sanitizer?

You should call a doctor, especially if you experience serious skin reactions to hand sanitizers. The FDA also allows consumers and health care professionals to report any negative experience with using a particular hand rub brand. You can file a report in FDA's

MedWatch Adverse Event Reporting

program with the following information:

7Does gel fuel work as hand sanitizer in an emergency?

No. Many DIY gel fuels with hand sanitizer have sprung on the internet. However, gel fuel cannot be a substitute to a consumer or industrial hand sanitizer.

8If I can't buy hand sanitizer online or in grocery stores, can I make my own?

A lot of pharmacies, stores and online shops market and sell alcohol hand sanitizers. Although there's an ongoing shortage, many are wondering

when hand sanitizers will be back on stock

.

To aid the under supply of these staple products, the FDA issued a guideline on the temporary preparation and production of alcohol-based hand sanitizers. This makes it easier for companies to make sanitizers at a lesser cost and time frame.

China has also ramped up production of hand sanitizers after recovering from the Coronavirus outbreak. In the following months, we can expect more supplies.

The FDA does not recommend consumers to make their own hand sanitizers. Since the Pandemic, there have been reported cases of skin irritation from homemade hand sanitizer.

You can follow recipes from Doctors and Health experts at your own risk. So make sure to do your research about chemical components of the ingredients before you make your own hand gel.

9A lot of disinfectants and surface cleaners are said to kill SARS-CoV-2. Are these products recommended to be also used on the hands or body to treat Coronavirus?

No. Surface cleaners and disinfectant sprays or wipes should not be used on the skin. These products are specifically used on non-porous and hard surfaces. They cannot be used on human skin as they may cause eye or skin irritation. Disinfectant sprays are also not intended for cleaning the animal's fur.

10If I add alcohol to non-alcohol hand sanitizer, will this be better to prevent COVID-19?

No. Addition of alcohol to an existing non-alcohol hand sanitizer is unlikely to result in an effective product.

HOW TOs
How to Make Hand Sanitizer
How to make your own hand sanitizer at home is easy, but making it effective against viruses is a bit tricky. With many DIY hand sanitizers on Pinterest, Youtube, Facebook and Instagram, how can you be sure you're following a reliable one?

To help you sift through reliable hand sanitizer recipes, we've gathered the following resources from doctors, manufacturers and health experts.

Basically, you can make hand sanitizer gel, spray or a foaming hand sanitizer. We'll also teach you how to spice up your sanitizer solutions with essential oils, scents and moisturizers. But note that scented hand sprays may lead to skin irritation depending on the sensitivity of your skin.

If you are going to make your homemade hand sanitizer, you will need the following materials:
Mixing Bowl
Spatula
Funnel
Plastic bottle with pump or squirt top
How to Make a Hand Sanitizer Gel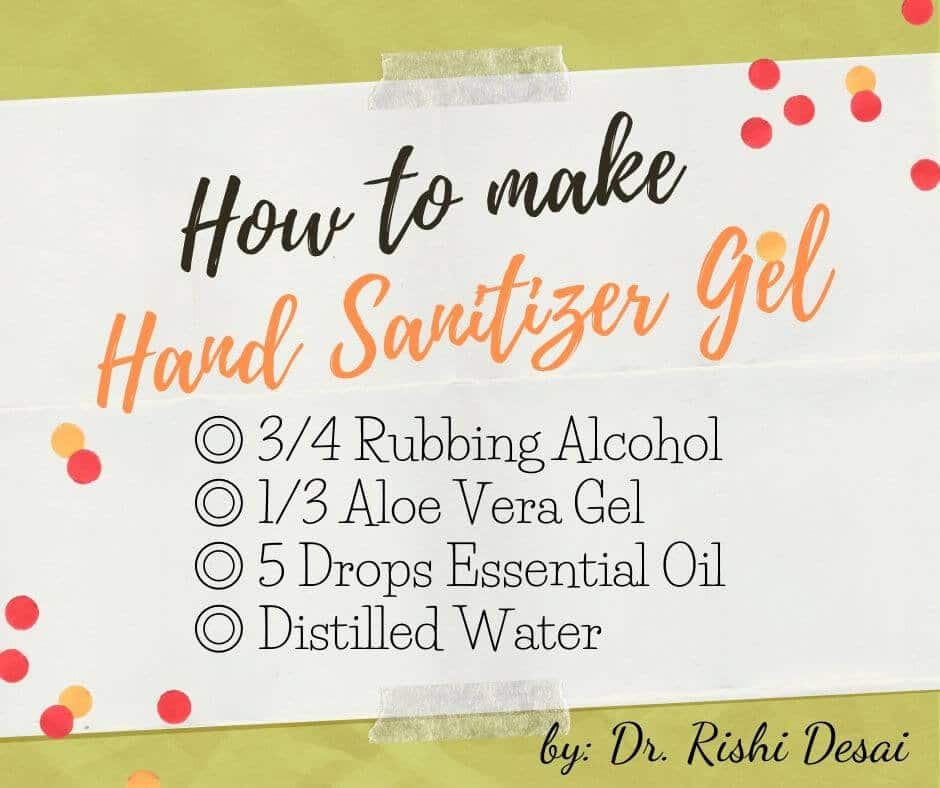 In a separate blog, we detailed the steps and precautions on how to make a homemade gel hand sanitizer. Here's an excerpt:
To make a simple alcogel which can effectively kill 99.9% germs, here's a recipe shared by Dr. Rishi Desai, Osmosis' chief medical officer and a past epidemic intelligence officer at the CDC.
Things You'll Need:
Here are the basic ingredients you'll need:
¾ cup of Isopropyl or rubbing alcohol (99% alcohol concentration)
¼ cup of Aloe vera gel
5 to 10 drops of Essential oil (tea tree oil, lavender oil, or lemon juice)
What You'll Do:
Pour the ingredients into the mixing bowl. Make use of a funnel to avoid spilling.
Blend the solution with a spoon and whisk it until the sanitizer turns into gel.
Pour the mixture into a clean empty bottle then label it as your "hand sanitizer."
How To Make Hand Sanitizer Spray (The Simplest Recipe)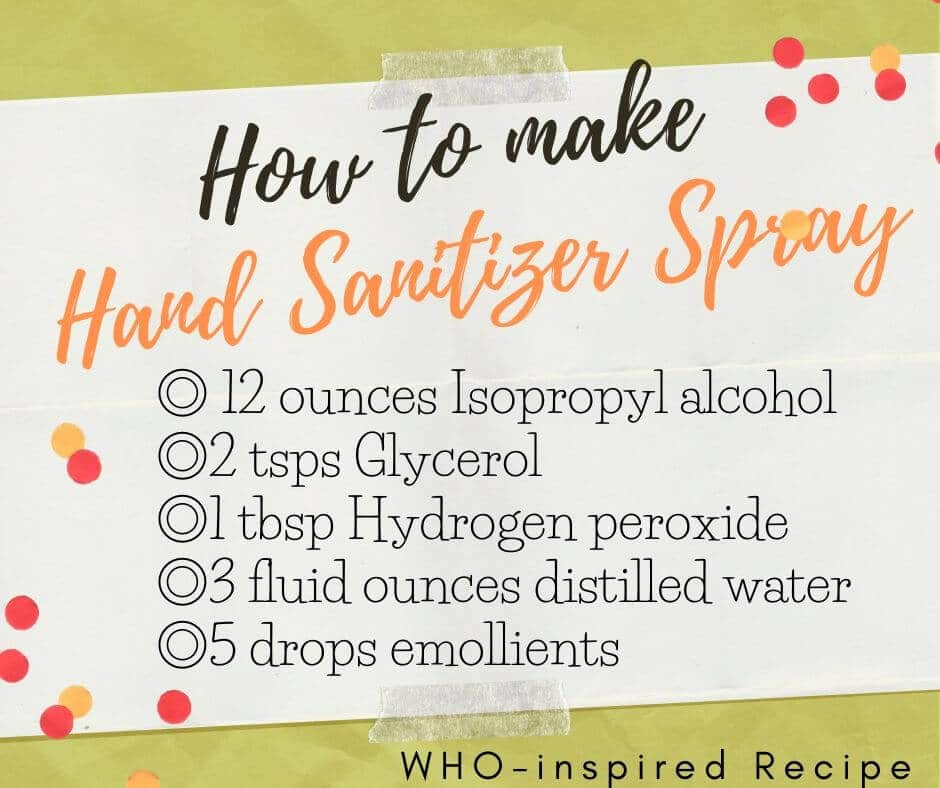 BeCleanse, a hand sanitizer manufacturer, shares this simple recipe based on the WHO formulation which you can easily make at home.
What you'll need
12 ounces Isopropyl alcohol (rubbing alcohol, 99.8%)
2 tsps Glycerol or glycerin (98%)
1 tbsp Hydrogen peroxide (3%)
3 fluid ounces distilled water
5 drops emollients (optional)
Spray bottles
Steps in Making a DIY Hand Sanitizer Spray
Pour the isopropyl, glycerol, hydrogen peroxide and distilled water in a mixing bowl.
Using a spatula, mix the ingredients thoroughly until uniform. You can also pour the ingredients in a screw cap container and shake it.
Pour the solution into spray bottles and close them.
Isolate the spray bottles for 72 hours so the hydrogen peroxide will kill any present microbes.
Label the spray bottles as "hand sanitizer".
How To Make Hand Sanitizer Spray With Essential Oils
Essential-oil hand sanitizers add a little something to your ordinary hand disinfectant spray. They are also easy to make, with 3 simple ingredients: alcohol, vegetable glycerin and essential oil. In some recipes, you can also add pure aloe vera or carrier oil.
Why Use Essential Oils?
Essential oils have the benefit of being versatile and an affordable way of keeping the skin healthy. Some essential oils can be used to relieve pain and cramps.
These can also improve the skin condition and even enliven your mood when used as an aromatherapy. They are made up from plant extracts and organic matter.
Best Essential Oils to Use for Hand Sanitizers
Know you are using the right essential oil with the following recommendations.
Tea tree – a world-known natural oil with antifungal, antimicrobial, antiseptic, antiviral, and antibacterial properties.
Lavender– widely used in aromatherapy promoting relaxation. It is antiseptic, antiviral, antibacterial, antifungal, and antimicrobial.
Geranium–sweet aromatherapy with antibacterial, antifungal, antiviral, and antiseptic capabilities.
Lemon oil – a natural home remedy with antimicrobial, antiseptic, antiviral, and antifungal properties.
Sweet or wild orange Oil – strong, sweet and citrus smell with antiseptic, antiviral, antifungal, and antibacterial properties.
Eucalyptus extract – usually used to treat nasal congestion, ulcers and asthma; has antibacterial, antifungal, antiviral, antiseptic, and antimicrobial properties.
Rosemary – soothes inflammation and known to strengthen the immune system; antiseptic, antibacterial, antifungal, and antimicrobial properties
Cinnamon – derived from leaves and barks of trees and used as an antibacterial, antifungal, antiviral, antimicrobial, and antiseptic
Clove extract – antiviral, antiseptic, antibacterial, and antifungal
Thyme – from leaves and flowers having a spicy scent and is usually used as an antibacterial, antiviral, antifungal, antimicrobial, and antiseptic
Peppermint – creates a soothing and cool sensation and used as an antiseptic, antibacterial, and antiviral
What Essential Oil Blends Can You Make for Your Homemade Essential Oil Hand Sanitizer?
You can also blend essential oil in one spray bottle to combine different antibacterial, antiviral and anti-stress properties. You may want to use a funnel to direct essential oil drops into the spray bottle.
One Essential Community shares essential oil combinations listed below which makes 10 drops per bottle.
EO blend 1: 4 drops tea tree + 4 drops lavender + 2 drops lemon
EO blend 2: 4 drops eucalyptus + 3 drops rosemary + 5 drops lavender
EO blend 3: 2 drops cinnamon + 2 drops clove + 2 drops lemon + 2 drops eucalyptus + 2 drops rosemary + 2 drops orange
Homemade Hand Spray with Essential Oil
The Merrythought shares a simple recipe on how to make hand sanitizer with essential oils following CDC's recommendation. The formulation makes use of 91% isopropyl alcohol (or higher) to make a final product of 60% or above alcohol spray. You can also use ethyl alcohol with 96% concentration.
Who Can Use This?
Healthcare workers, doctors
Public consumers
You can watch the video below to know how.
What You Need
1 cup 91% isopropyl alcohol
1/4 cup glycerin (or aloe vera)
10 to 20 drops essential oil
Spray bottle
Steps:
Add the ingredients in the bowl and whisk them together
Pour the solution into the bottle
Leave it for 72 hours to kill any form of bacteria that may have gotten into the solution during the mixing process.
Result:
a 70% alcohol based essential oil hand sanitizer spray
How To Make Hand Sanitizer For Kids
Making DIY hand sanitizer for kids is fairly easy as long as you don't use essential oils or fragrances which are not kid-friendly. According to Dr. Adena Rosenblatt, a pediatric dermatologist at The University of Chicago Comer Children's Hospital, kid-friendly ingredients are not an issue.
"Rubbing alcohol is fine for kids. I would be a little cautious about the aloe vera and essential oils because those may cause sensitivity in some kids."
There are a number of essential oils which can cause rashes or skin irritation. The following recipe shared by Live Simply makes use of essential oils which are kid-safe. This hand sanitizer formulation is made with alcohol, glycerin, and essential oils making one spray bottle for your kid.
Who can use this?
What you need
1/2 tsp – vegetable glycerin (provides the moisturizing effect on the skin)
20 drops tea tree EO
10 drops spruce EO
6 drops lemon EO
3-4 Tbsp isopropyl rubbing alcohol. Do not use methanol or butanol alcohol
What to do:
Add the ingredients such as the glycerin and the essential oils in a spray bottle.
Add the alcohol until it fills the bottle.
Screw the bottle cap, shake well and leave for 72 hours.
Teach your child to shake it well before using it and apply an ample amount to cover the hands and rub them dry.
Resulting Solution:
a 60% alcohol-based hand sanitizer which is kid-friendly
How To Make Scented Hand Sanitizer
Based on the findings of Consumer Reports, formulations with fragrances having 70% or more alcohol content are best disinfectant agents against bacteria. Commercial fragrances containing this alcohol percentage are considered as effective as hand sanitizers
In fact, Eau de Colognes contains 3 to 5% perfume oil and 80 to 90% alcohol. It has one of the highest amounts of alcohol used in the perfume industry.
This makes a surprisingly vital connection between hand sanitizer manufacturing and perfume industries. Hence, with the ongoing shortage for hand disinfectants, many perfume manufacturers have also started mass producing hand sanitizer gels.
This also means you can use fragrances as an added ingredient to your hand sanitizer, provided that it would not cause irritation. One of the few reasons why fragrances are added to alcohol-based hand sanitizers is also to hide the offensive smell of Ethanol.
What Fragrances to Use for Scented Hand Sanitizers
Alpha Aromatics lists the following fragrances most commonly used in making scented hand sanitizers:
Sugared Lime and Citron
Wisteria Blossom
Iced Mint Verbena
Raspberry Seed and Violet
Cherry Blossom
Matcha Tea and Aloe
How To Make Your Own Scented Hand Sanitizer
Here's a simple DIY hand sanitizer with fragrances recipe.
What you need:
2/3 cup 99% rubbing alcohol
1/3 cup (80 grams) Aloe Vera gel
10 drops essential oil in any scent of your choice
What to do:
First, pour ⅔ cup of rubbing alcohol into the mixing bowl. When you can't get a hold of a 99% alcohol, you can use 91% alcohol.
Pour ⅓ cup of Aloe Vera gel to make a gel-like solution. This will render a moisturizing capability to the hand sanitizer.
Add 10 drops of your scented essential oils. Feel free to use any scent as long as they would not irritate your skin. Some antimicrobial essential oils are cinnamon, lavender, eucalyptus, thyme, thieves, peppermint and rosemary.
Mix the ingredients with a spoon or a wooden spatula until the mixture becomes uniform. Make sure no lumps or fish-eyes are seen.
Pour the mixture in a glass bottle using a funnel. You can use a glass bottle with a pump or squeeze top.
Shake the bottle and leave it for 72 hours before using the hand sanitizer. Whenever you want to use it, remember to shake it well first.
Resulting Solution
A 65 to 70% scented alcohol hand sanitiser
How To Make Foaming Hand Sanitizer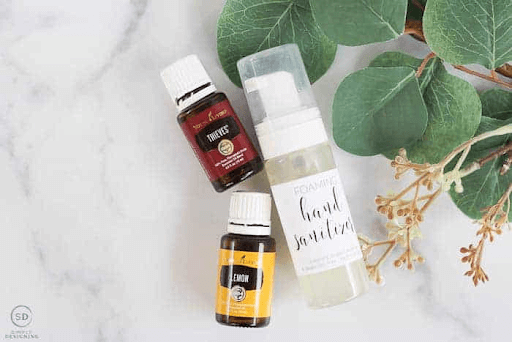 The key to make a hand sanitizer foam is to pour the hand gel mixture in a foaming container. Also, unlike the other recipes, hand sanitizer foam recipes would need more aloe vera to make the solution thicker and more viscous. This is to make sure the solution foams when pumped from the bottle.
Simply Designing shares an alcohol-free hand sanitizer foam recipe which is very easy to make. However, take note that there's no alcohol used in making this hand sanitizer which means it cannot be used as a hand disinfectant. The formulation also used Witch Hazel, which is a great natural anti-inflammatory for the skin.
What you'll need:
3 tbsp Aloe Vera
1 tbsp Alcohol-Free Unscented Witch Hazel
15 drops Thieves Essential Oil
5 drops Lemon Essential Oil
Foaming container
What to do:
In the foaming container, pour all of the ingredients.
Shake the bottle well until all the ingredients completely combine.
Put a label saying it's an alcohol-free foaming hand sanitizer.
Resulting Solution:
An alcohol-free hand sanitizer foam, good for relieving the skin from bites, pains and swells.
How to Make Natural Hand Sanitizer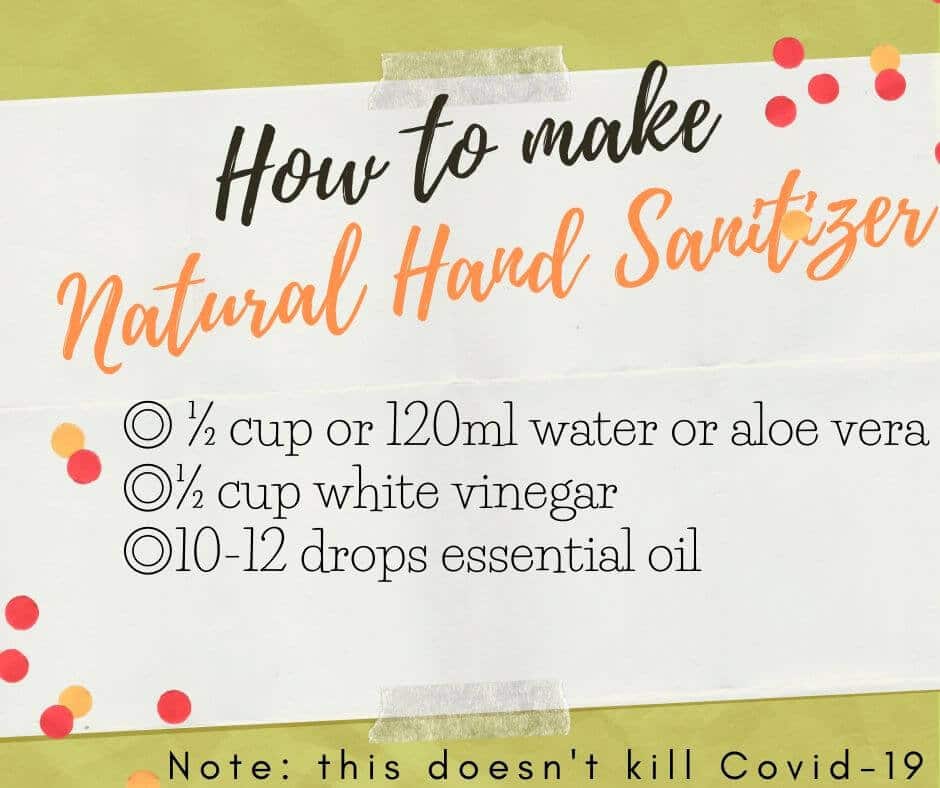 Natural hand sanitizers can be made of plant-based active ingredients and other ingredients. In hand sanitizer manufacturing, Ethanol can be made of natural animal extracts such as fish liver oil. Naturally occurring alcohol would often come from sugar, water and yeast.
How Do You Make Natural Hand Sanitizer Without Alcohol
In the most dire situations, many DIY natural hand sanitizers may also contain Vinegar, a natural alternative to alcohol. Vinegar is your everyday kitchen staple which makes it an easy-to-get ingredient for making your own hand sanitizer.
However, this natural household disinfectant is not effective in killing Coronavirus. It's also not recommended by the CDC for eliminating COVID-19 as it is not alcohol.
On the bright side, Vinegar is considered a good antimicrobial agent against Staphylococcus aureus, Salmonella choleraesuis, Escherichia coli. It can also kill 99.99% germs, is edible and non-polluting.
What You Need:
½ cup or 120ml water or aloe vera
½ cup white vinegar
10-12 drops essential oil
What to do:
In a mixing bowl, mix all the ingredients until thoroughly mixed.
Pour the mixture into smaller bottles.
Leave the bottles isolated for at least 72 hours before using it.
Shake well before use.
Resulting Solution:
An antimicrobial, alcohol-free natural hand sanitizer, which can kill 99.99% germs and some bacteria.
How To Make Hand Sanitizer Without Alcohol
Alcohol products can sometimes harm the skin and cause dryness, especially when overused. That's why alcohol-free hand sanitizers are manufactured, having an active ingredient which can still kill some germs and leave the hand flawless.
Hand sanitizer without alcohol may contain benzalkonium chloride as its active ingredient. Adding essential oils is optional. You can add tea tree oil extracts as it makes the most ideal natural hand sanitizer.
However, remember that alcohol-free solutions would not kill Covid-19. So these ingredients will not eliminate the Coronavirus on your hands, but are effective in killing germs causing flu and cold.
So it makes perfect sense to use an alcohol-free hand sanitizer to eliminate other disease-causing germs than having no other form of protection. It is still better, though, if you can get a hold of alcohol-based hand sanitizers with 60 to 80% concentration.
How to Make Alcohol-Free Hand Sanitizer With Witch Hazel and Tea Tree Oil
This recipe from Nature's Nurture does not use alcohol. However, the author notes adding 1 cup of 91% isopropyl alcohol if you want it to be anti-Covid.
What You Need
1/2 cup aloe vera gel
45 drops tea tree oil for antibacterial efficacy (optional)
15 drops essential oil (optional; you can use rosemary, cinnamon or lavender)
3/4 tsp vitamin E oil (optional; for moisturizing)
squeeze tubes or bottles
What to do
In your mixing bowl, add the vitamin E oil, and essential oils and stir.
Add witch hazel.
Add the aloe vera gel and mix thoroughly.
Use a funnel to pour the mixture into the bottles.
Shake well.
Isolate it for 72 hours before using.
How To Make Personalized Hand Sanitizer Bottles
If you make a do-it-yourself hand sanitizer, you would surely want its bottle to be customized. The easiest way is to simply reuse shampoo or lotion bottles. You may also reuse empty hand sanitizer bottles.
Customized Hand Sanitizer Bottles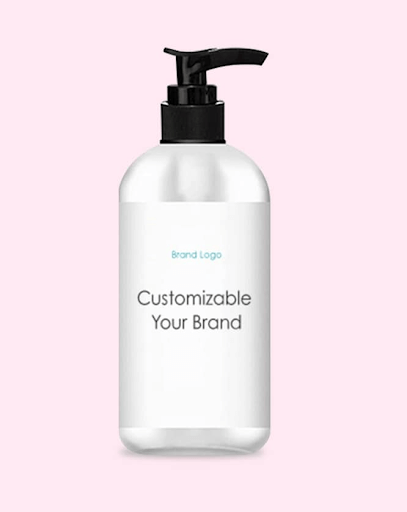 You can also find a private label hand sanitizer manufacturer who can offer to customize hand sanitizer bottles. That is if you want to sell your own hand sanitizer brand into the market. You can ask the manufacturer to customize a particular type of bottle for the hand sanitizers. This can vary in different sizes (30ml, 60ml, 100ml, 250ml, 300ml, 500ml, 1L, 2L, etc) and types (squeeze pump bottle or screw top bottle)
BUYING GUIDE
What are the Considerations in Choosing Hand Sanitizers?
When choosing hand sanitizers, you can base it depending on the following considerations:
The alcohol content (60% to 90%) which can effectively kill germs and viruses.
The emollients or moisturizers can help improve your skin quality and health
The type of bottle and the amount it can dispense in every pump.
Is it safe for children? Does it have denaturants to discourage your child from drinking it?
If it is safe for frequent use of hospital staff or patients
If all the ingredients are reliable, compatible and if it can remove chemicals on the hands
Finally, the price if it is justifiable.
What the CDC Says in Choosing Hand Sanitizers
According to the Centers for Disease Control and Prevention (CDC), use hand sanitizers with 60% to 95% alcohol concentration. You may also want to read CDC's article on when and how to use hand sanitizers in community settings.
What the FDA Says in Choosing Hand Sanitizers
The Food and Drug Administration (FDA) also says acquiring hand sanitizers with high alcohol content like the CDC's advice. The high concentration can reduce bacterial activity and have a high germicidal efficacy. The agency also set proper guidelines for the temporary production of hand sanitizer during the global pandemic.
What the WHO Says in Choosing Hand Sanitizers
The World Health Organization (WHO) recommends washing the hands with soap and water to prevent the COVID-19 disease from spreading. However, the agency also recommends using alcohol-based hand sanitizers when there's no soap available. Furthermore, WHO recommends hand rubs in pump dispensers as they are more convenient to be used.
What Brand Of Hand Sanitizer Is the Best to Use
There are many hand sanitizer brands available in the market. According to Grand View Research, the hand sanitizer market has exponentially grown over the years.
"The global hand sanitizer market size was estimated at USD 2.7 billion in 2019 and is expected to reach USD 3.3 billion in 2020."
Listed below are the best hand sanitizer brands in the market, which conform with the CDC, WHO and FDA compounding and manufacturing requirements. These are all reliable brands you can confidently rely on when it comes to killing coronaviruses and germs.
1. Purell Advanced Hand Sanitizer
✅Manufactured by GOJO
✅ 70% Ethyl Alcohol
✅Most popular hand sanitizer brand
✅Clears off Covid-19 and 99.99% germs on the hands
✅Available as instant hand sanitizer or as refill
✅1fl oz, 2fl oz, 30ml, 354ml, 700ml or 1200ml
2. BeCleanse Hand Sanitizer Gel
✅Manufactured by BeCleanse
✅ 75% alcohol content
✅Best-buy hand sanitizer
✅ Eliminates 99.99 percent of germs and COVID-19 virus
✅ Contains glycerin, hydrogen peroxide and water
✅Available in 30ml, 60ml, 100ml, 250ml, 300ml, 500ml, 1L
✅Quick-drying, rinse-free and non-sticky
3. Honest Hand Sanitizer Spray
✅Manufactured by Honest Company
✅ 62% Ethyl Alcohol
✅ Eliminates 99.99 percent of germs
✅Quick drying and non-sticky
4. CVS Hand Sanitizing Spray
✅Manufactured by CDS Caremark
✅ 65% Ethanol
✅ Pocket hand sanitizer spray
✅ Contains vitamin E, colorants, fragrances and moisturizer
5. Germ-X Original Hand Sanitizer
✅Manufactured by Vi-Jon Inc.
✅ 75% alcohol content
✅ Eliminates 99.99 percent of germs and COVID-19 virus
✅ Contains glycerin, hydrogen peroxide and water
✅Available in 30ml, 60ml, 100ml, 250ml, 300ml, 500ml, 1L
6. Touchland Power Mist
✅Manufactured by Touchland
✅ 67% alcohol content
✅ Pocket-sized, mini hand sanitizer mist
✅ Best hand sanitizer for travel
✅ Contains 6 important ingredients for eliminating microbes, cleansing and healing the hands.
✅Available in 38ml personalized mist bottles
7. EO Hand Sanitizer
✅Manufactured by EO Products
✅ 67% alcohol content
✅ Pocket-sized, mini hand sanitizer mist
✅ Contains 6 important ingredients for eliminating microbes, cleansing and healing the hands.
✅Available in 38ml personalized mist bottles
8. Health Guard Instant Hand Sanitizer
✅Manufactured by Global Speciality Chemicals
✅Contains 62% to 70% alcohol
✅Budget wise option
✅Commercial or industrial hand sanitizer.
✅Has E2 rating for sanitizing and cleansing
✅ Aloe vera and vitamin E
9. Safeguard Hand Sanitizer
✅Manufactured by Procter and Gamble
✅Contains 80% alcohol
✅Reliable antibacterial formulation
✅8 fl oz, 16 fl oz and 40.5 fl oz bottles
Where to Buy Hand Sanitizer Online?
There are many good places online where you can readily buy hand sanitizers. Below, we've listed the ones where you can buy in bulk or in pieces.
Retail Online Shops
In the US, you can buy hand sanitizers online in many online shops. This includes Amazon, Paper Source, Ulta, Target and Etsy.
In the UK, there are available hand sanitizer stocks in Wait Rose & Partners, The Bottle Club and Farms to Fork.
You can also look at Strawberry Net, David Jones, and Crazy Sales if you are living in Australia.
There are many options online, however, stocks might be limited and hospitals are usually prioritized. If you are looking for more online options, you can find more here.
Where To Buy Hand Sanitizer In Bulk?
These online vendors have stocks in wholesale and in refills offered in a wide variety of sizes. Bottle sizes may be in 30ml, 60ml, 100ml, 250ml, 300ml, 500ml, 1L and others. Other manufacturers offer private label or customized manufacturing as well.
Purchasing directly from manufacturers can give you the benefit of more affordable options. This can range from 0.1 to 3.5 USD per bottle depending on the size. However, you need to follow a certain number of minimum quantities of orders. It will range from 500 to 10,000 units, depending on how you can negotiate on prices and quantity.
If you want to know more about importing hand sanitizers from other countries, you can visit this article.
Here are the top options when buying bulk hand sanitizers.
BeCleanse is a hand sanitizer manufacturer in China with over 11 years of experience. The company offers custom private label manufacturing, as well as wholesale buying. They also have import certifications which include FDA, CE, MSDS, and other pertinent documentation.
Best Sanitizers has manufacturing capabilities not just in the USA, but also in Thailand, Japan and Shanghai. It has an R&D testing facility, which allows it to customize hand sanitizer formulations. The company offers OEM hand sanitizer production.
For more reliable manufacturer options in the USA, please visit our review on the best hand sanitizer manufacturers in the USA
Zidac has a state-of-the art factory in the UK, manufacturing hand sanitizers and antibacterial gels. Currently, it runs for over 24 hours a day to cater the shortage of hand hygiene products.
For more reliable manufacturer options in the UK, please visit our review on the best hand sanitizer manufacturers in the UK
4. Alibaba
Alibaba is an outsourcing platform for wholesale buyers. It has over 80,000 listings of hand sanitizer manufacturers, suppliers and exporters. These manufacturers are guaranteed to have millions of in-stock hand sanitizers. Available products are hand gels, foam, sprays and refills in bulk.
5. Indiamart
Indiamart is an Indian manufacturer outsourcing platform having a hundred listings of reliable suppliers. There are branded and unlabeled hand sanitizers sold in various sizes and types. Some manufacturers also offer customization services for hand sanitizers at a low cost.
Wrapping Up
We hope this complete guide on hand sanitizers helped you know more about this hand disinfectant product. There are now a lot of new hand sanitizer products in the market. To know which ones to buy and how to properly use them can give you an edge in today's dilemma of sanitation rampage.
BeCleanse
is an experienced hand sanitizer manufacturer and supplier. If you want to buy high quality hand sanitizer gels at a reasonable cost, don't hesitate to
contact us for a quotation
.