A sudden craze in DIY hand sanitizers is all over Pinterest, Twitter, Facebook and Instagram. Are they even safe? Well, not all of them. I've seen a couple of recipes which are really questionable.
There's a reason why hand sanitizers are made in laboratories or manufacturing facilities. You must have heard a hundred times about the effect of the Coronavirus on people's shopping behavior, stockpiling, price gouging, etc.
And since Amazon is prioritizing Purell supplies for hospitals and government agencies (which we don't have any problem with), we are left with our own existing resources.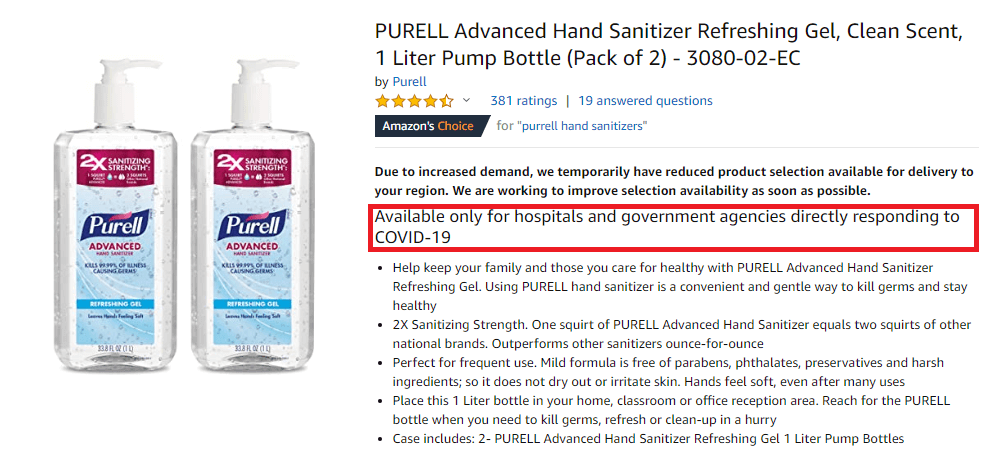 If you're out of hand sanitizers and it's not available in any store, you can make your own. The gel type hand sanitizer is easier to make as you only need alcohol, aloe vera and lemon.
For this article, we are going to try and make spray hand sanitizers. The recipe for this is based on the one given by the World Health Organization (WHO).
Note: The ingredients and steps for this is more difficult and requires accuracy so you need to have the proper equipment. Do not do this on your own if you lack equipment and ingredients. The recipe is best for local community production or small volume production.
PS. If you want an easier way to make a homemade hand sanitizer – and we guarantee it's safe – visit our DIY Hand Sanitizer blog.
Precautions
For the guidance below, you will have to use 99.8% isopropyl or rubbing alcohol. If you're using a lower-concentration rubbing alcohol, use less water. Just remember this: at least ¾ of your final solution has to be alcohol.
Work in a clean space.
Wash your hands with soap and water before you make a hand sanitizer.
Make sure your equipment and mixing tanks are clean. You might want to wash it first.
Do not dip your hands into the mixture nor touch it.
Thorough mixing is needed, covering every part of the solution.
Alcohol is highly flammable. Don't expose the solution near a stove, cigarettes, sparks, etc.
What Concentrations You Need to Achieve
If you will be concocting your own alcohol-based hand sanitizer, you will be needing to achieve these concentrations:
75% V/V Isopropyl Alcohol
1.45% V/V Glycerol
0.125% V/V Hydrogen peroxide
And we'll teach you later on how you can measure these concentrations in the Quality and Testing section.
Things You'll Need
| Ingredients | Amount |
| --- | --- |
| Isopropyl alcohol (rubbing alcohol, 99.8%) | 7,515 ml |
| Glycerol or glycerin (98%) or Emollients | 417 ml |
| Hydrogen peroxide (3%) | 145 ml |
| Distilled water | Prepare at least 3,000 ml |
Equipment
QTY.
Photo
1

Glass/plastic bottle(PP or HDPE) with screw-threaded stopper

10 L
2

Wooden, plastic or metal paddle (optional)

1 pc
3

Measuring cylinders and measuring jugs

4

Plastic or metal funnel

5
Plastic bottles with leak-proof tops
100 mL
6
Alcoholmeter
1 pc
Ingredient Substitutes
Due to the lack of resources, some of you might ask if you can substitute an ingredient for an equally-effective chemical. Lucky you, the WHO also specified viable substitutes and we've listed them below.
What if I don't have Glycerol?
Glycerol/glycerine is easier to get a hold of. You can buy it online or through your local pharmacy. This ingredient is non toxic, odorless and colorless. Glycerine preserves the moisture on your skin and hydrates it.
If you don't have glycerol/glycerine, you can use other emollients for skin care such as:
Mineral oils,
Lanolin, or
Beeswax.
You can use other types of emollients as long as they are miscible in water, easily available, and is not allergic.
What if I don't have Hydrogen Peroxide?
You can find Hydrogen peroxide in drug stores or buy it online. It is used to kill bacteria in your mixture, but will not directly kill the bacteria on your hand.
The WHO didn't specify any safe alternative for hydrogen peroxide in making hand sanitizers. We will update this blog if there is.
Can I Add a Colorant?
You can use a colorant for differentiating fluids, but be careful not to use products that promote allergy or have toxic ingredients. If you are not sure about the product, don't use it. Do not use perfumes as it can cause allergic reactions with your skin.
Steps
1. Pour the isopropyl alcohol in the glass bottle.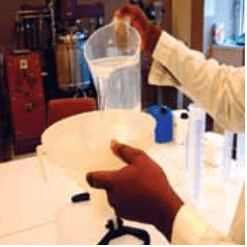 2. Measure the correct amount of hydrogen peroxide and pour it slowly in the tank using a funnel.
3. Add the glycerol. Since some of it will stick on the walls of the measuring cylinder, rinse it with distilled water and pour it in the mixture.
4. Pour distilled water up to the 10-L mark.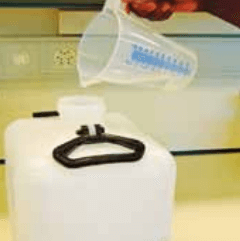 5. Screw the top of the bottle as soon as you're done.
6. Mix the bottle. If you are using an open tank for preparing the mixture, you can use a wooden paddle to mix the ingredients.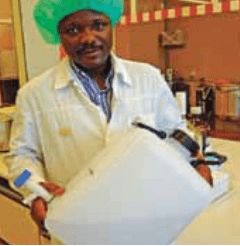 7. Immediately pour the contents into small spray bottles, cover it and leave for 72 hours. This allows the hydrogen peroxide to destroy the spores.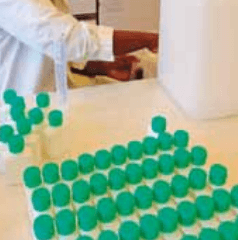 Quality Control and Testing
This part is for verifying your solution. Use an alcohol meter to verify the concentration.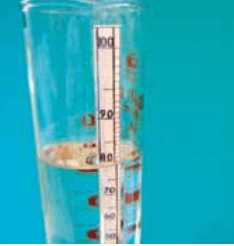 Make sure the concentration is within the target units at ± 5% tolerance. (75% V/V Isopropyl Alcohol)
There, you can now use or donate these spray hand sanitizers.
Want a Simpler Recipe for a Spray Hand Sanitizer? (You can do this at home)
Below is a simpler procedure of the procedure above. You can do this at home if you have the proper ingredients.
What You'll Need:
Isopropyl alcohol (rubbing alcohol, 99.8%)

12 ounces

Glycerol or glycerin (98%)

2 teaspoons

Hydrogen peroxide (3%)

1 tablespoon

Distilled water

3 fluid ounces

Emollients

(optional)

5 drops

Spray bottles
Simpler Steps in Making a Spray Hand Sanitizer
Mix the isopropyl, glycerol, hydrogen peroxide and distilled water in the correct amounts as specified above.
Secure the mixture in a screw-cap bottle and shake well or if you are using an open container, stir it well.
Immediately pour the mixture into spray bottles.
Quarantine it for 72 hours so the hydrogen peroxide will kill any present microbes.
Label the bottles as "hand sanitizer".
Conclusion
The best way to kill Coronavirus on your skin is by washing your hands with soap and water. In the event that you're not near the sink, you can use hand sanitizers to clean your hands.
The procedures listed above are straightforward and easy. The only thing you need to keep in mind is to be accurate with measurements. When you get it wrong, your hand sanitizer will be useless in killing germs.
Of course it is still better if you can get a hold of hand sanitizers manufactured by experts. You can now place your orders with BeCleanse, a China alcohol-based hand sanitizer manufacturer catering to bulk orders or private label manufacturing.