As we are currently facing a global pandemic, a lot of attention has gone to hand sanitizers and its history. Many debates have been going around when hand sanitizer really was invented. Its history dates back in the 1960's, but there are different claims on its true origin.
The Demand For Hand Sanitizers
Today, consumers can't live without hand sanitizers. People spend thousands of dollars each year for hand sanitizers.
According to Fior Markets, the global demand for hands sanitizers could reach beyond $2.1 billion by 2027. The market estimate further suggests having a serious market growth capability due to the aftermath of the Coronavirus Pandemic.
While it has always been Alcohol that's more popularly used by the society, hand sanitizers did answer the issue of hand dryness. And at least, there's more of a definite origin for alcohol, being invented in the 1800's.
Different Claims on Hand Sanitizer Origin
So who were the ones claiming the invention of hand sanitizers? Here are a few claims we will investigate in this article:
Lupe Hernandez, a Bakersfield Nursing Student – 1966
Sterillum's Manufacturer, HARTMANN, claimed by Paul Hartmann – 1965
Purell's Manufacturer, GOJO, claimed by a couple named Goldie and Jerry Lippman – 1945
A Bakersfield Nursing Student Invented Hand Sanitizer
Some accounts say Lupe Hernandez, a Bakersfield Nursing Student had invented the first hand sanitizer. She discovered that a 60 to 65% alcohol based solution can kill some germs and viruses, even without soap and water.
According to the supporter of this claim, her invention of the hand sanitizer dates back to 1966. Accounts further say she invented hand sanitizer due to the lack of soap and water for the medical professionals.
Even though this is a popular story, there's really no solid proof available claiming that Lupe did invent the product. There's not even a US patent for hand sanitizer under her name.
"I would love for the story to be true and it would be an incredible boon to the community if it were, but at this point there is nothing supporting that," says Bethany Rice, a curator at the Kern County Museum, who was one of the researchers trying to prove the claim.
A lot of historians and researchers investigated the matter but to no avail. The most recent investigation was also not able to turn up any good leads.
Was it HARTMANN Who Pioneered the First Hand Sanitizer Through Its Product, Sterillum?
Hartmann, a German manufacturer, also claims to invent the first alcohol-based hand sanitizer in 1965.
The company says its first batch of hand disinfectants left the factory of Hamburg-Stellingen and made its sensation in many scientific publications at that time.
The company also claimed "revolutionizing surgical and hygienic hand disinfection". The product is made of 75% alcohol and glycerin.
GOJO's Claim on the First Hand Sanitizer Ever Made
GOJO is a leading hand sanitizer manufacturer of Purell. Today, Purell Advanced Hand Sanitizers are the best selling hand gels in America and other parts of the world.
So how did GOJO make the first hand sanitizer? There is a claim that it all started when a couple first made a waterless hand cleaner in 1946.
It was Goldie and Jerry Lippman, who made the solution for plant workers in a rubber manufacturing plant. These workers were in constant exposure to chemicals and they previously used benzene and kerosene for removing grease on their skin.
Now Goldie and Jerry made a mixture of mineral oil, petroleum jelly and 5% alcohol and called it "Gojo".
The first batch of Gojo was mixed using a washing machine in Goldie's parents' home in Ohio. The solution was poured in pickle jars. They sold these jars to the plant workers.
It was in 1988 that the company invented Purell hand gel, which consists of an active ingredient of 70% Ethyl alcohol. It also contains propylene glycol and moisturizer.
When Did Hand Sanitizers Became a Trend?
Hand sanitizers weren't always in the spotlight way back in the day.
In fact, it was only in 1997, almost 32 years later, before GOJO, the manufacturer of Purell, started selling hand sanitizers to the consumer market.
In that same year, Vi-Jon, the manufacturer of GermX, and the second largest hand sanitizer brand in America, followed through GOJO's move.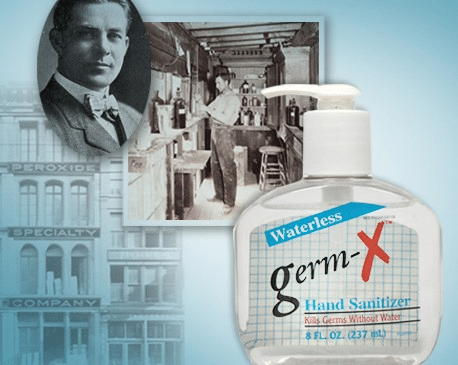 Wrapping Up
We hope you've learned a thing or two on the origins of the hand sanitizer in this article. As you may have noticed, history repeats itself and revolves around one thing:
To keep your hands clean when there's no soap and water at hand, you can use hand sanitizers. But only those with 60% alcohol or above can effectively kill germs and viruses.
We've seen how the hand sanitizer market has grown in demand in the 1960s, 1990s and today.
Currently, hand sanitizers manufacturers, researchers and health authorities are further improving its consistency, formulation, market and delivery to consumers to combat the spread of the Coronavirus.
Want to popularize your own hand sanitizer brand? Better start now! Our company offers affordable private label manufacturing services for alcohol-based hand sanitizers. If you want quality hand sanitizers with 75% alcohol under your own company logo, contact BeCleanse now.