DIY hand sanitizers are one thing. But manufacturing hand sanitizers in bulk, through a sequence of automated processes, with large mixing and filling equipment is another. Want to know how your instant hand sanitizer is made in a factory? Find out in this article!
The Growing Need for Hand Sanitizers
Fior Markets says,
The global demand for hands sanitizers could reach beyond $2.1 billion by 2027.
The COVID-19 Pandemic has a lot of people intensively searching for available hand sanitizers in grocers and in online stores.
Because of the sudden need to frequently clean and disinfect the hand, the demand for hand sanitizers has caught up with the supply of manufacturers.
And thus, thousands of alcohol manufacturers and distilleries globally are lending a hand to sustain need. Retooling production lines can be easier said than done.
Fact check: Not all equipment you would find in a distillery would ideally fit the requirements of making alcohol-based hand sanitizers.
What are the FDA Guidelines in Hand Sanitizer Manufacturing?
If you want to know how to make a good quality hand sanitizer, you must follow the manufacturing guidelines of the World Health Organization (WHO) and the Food and Drug Association (FDA).
These authoritative guidelines walk you through the process for the production of liquid hand gels and foams to be marketed as a consumer hand hygiene product.
The key to making consumer antiseptic hand rubs is that it must contain at least 60% alcohol in order to be effective at killing Coronavirus.
Hand Sanitizer Manufacturing Process
The manufacture of hand sanitizers involve the following processes:
Preparation of formulation for a batch size mixing.
Hand sanitizer ingredients mixing process.
Packaging process which involves three separate processes: Filling, Capping and Labeling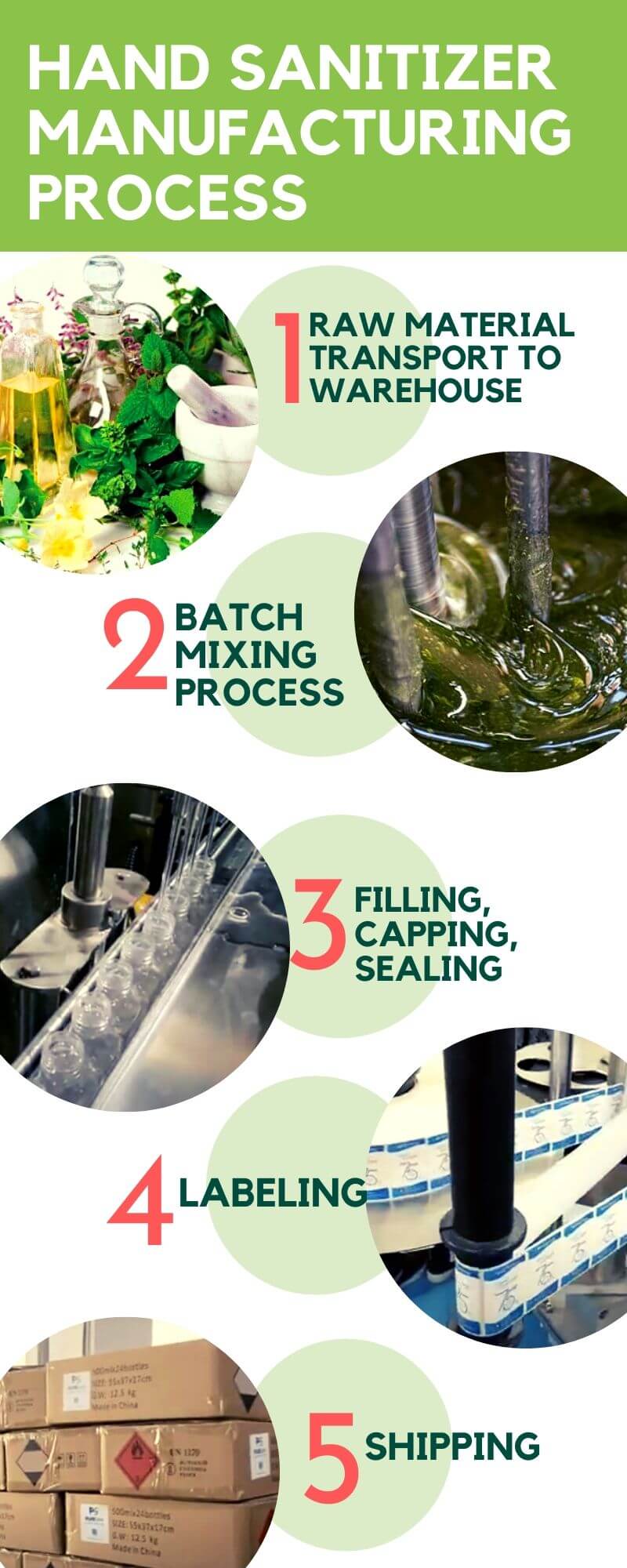 What are the Equipment Needed?
An FDA-registered facility would have the following equipment for the manufacture of hand sanitizers:
Hand Sanitizer Mixer
This is the equipment used for mixing the ingredients. This can be a Vacuum Emulsifier, High Shear Mixer or a Powder-liquid Disperser Mixer which can make small to large batches of hand sanitizer solution.
Hand Sanitizer Filling Machine
This is a machine used for accurately filling container bottles for hand sanitizers. You have several options such as Liquid Filling Machines and Viscous Liquid Filling Machines.
Hand Sanitizer Capping Machine
An automated machine, capping machines can automatically cap bulk hand sanitizer containers in a matter of an hour. You may have several options such as Screw Capping Machines, Rotary Vacuum Screw Capping Machine
Hand Sanitizer Labeling Machine
Labeling machines can accurately put a brand or emboss a name on your containers. A variety of options include Pressure Sensitive Labeler, Optical Laser Printing Machine, Inject Printing Machine
The Formulation
Watch how WHO formulated hand sanitizer is made in laboratories.
Formulations may contain a variety of ingredients.
A hand sanitizer formulation may contain active ingredients such as:
Ethyl Alcohol
Isopropyl Alcohol
Benzalkonium Chloride
The most important sanitizing ingredient is Ethyl or Isopropyl alcohol at a very high concentration, say at 96% (WHO). This is to ensure that when mixed with the solution, the final product would be around 70 to 80% concentration, as required by the FDA and CDC.
Other ingredients:
Carbopol – provides gel-like texture. However, hand foams in pump bottle dispensers usually have lower viscosities to provide efficient dispersion.
Humectants or Moisturizers like Glycerin
Fragrance (usually not included in non-scented hand sanitizers)
Coloring (not included in clear hand sanitizers)
Bitter-tasting compound – to prevent consumers from drinking the hand sanitizer
The Mixing Process
A hand sanitizer mixer performs the following processes:
Water and Carbopol are mixed, until it forms a viscous gel. To obtain a conglomerate-free mixture, it is ensured that aeration is prevented during mixing.
Alcohol is then added in the second phase of mixing until the mixture forms a uniform product. Initially, the alcohol would have a 96% concentration. Mixing it with the other ingredients would dilute it to 70% to 80% concentration.
Triethanolamine may be added to obtain the right PH of the solution, so it would not irritate the skin.
Humectants can also be added and some preservatives, depending on your formulation.
In order to achieve an agglomerate-free mixture and consistent batch-to-batch hand gel solutions, you should have a high speed mixer.
The action of the blades of a high shear or a powder-liquid mixer will ensure dispersion of the Carbopol into the liquid substances to prevent aeration. Air entrapped in the hand gel mixture can cause clouding and can cause problems during the filling process.
In addition, an in-line mixer can efficiently recirculate the mixture in the mixing line to ensure uniformity of the end-product.
Afterwhich, the hand sanitizer solution is filled in individual containers with a filling machine.
Filling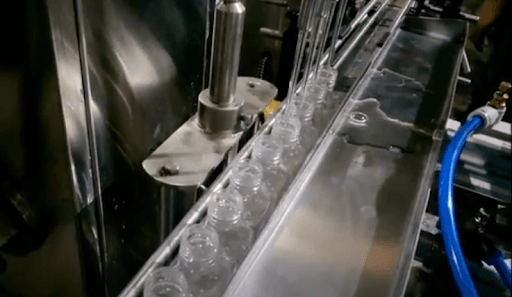 Filling machines are used to automatically fill pump bottles according to pre-set volumes. Machines like these are equipped with a servo-motor and other pneumatically-powered devices to maintain accuracy filling. Automatic filling machines in factories can produce bulk hand sanitizers with over millions of inventories to ship per month.
The operation would depend on the viscosity of the product. There are filling machines with gravity filling nozzles or piston induced nozzles. That is to accommodate a variety of viscosities.
If you are producing hand sanitizer gels, you might want a piston-induced nozzle as the product is more viscous than sprays, foams and liquids.
Capping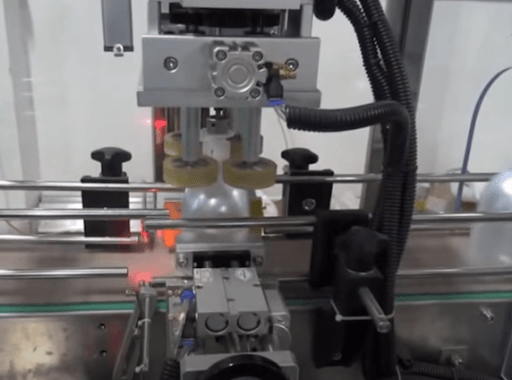 For capping the bottles, you can use automatic capping machines for securely tightening hand sanitizer screw-capped containers.
These machines work by capping PET hand sanitizer bottles with its pump dispenser head or its cap. Usually, a capping machine has four rollers or heads which applies torque to tighten threaded caps to the threaded bottle neck.
Capping machines have a PLC program for automatic adjustments of parameters such as speed and size of the bottles. The rollers are adjustable to process different cap diameters and heights. Thus, changeover is faster. These machines can further process usually between 40 to 100 bottles per minute.
Labeling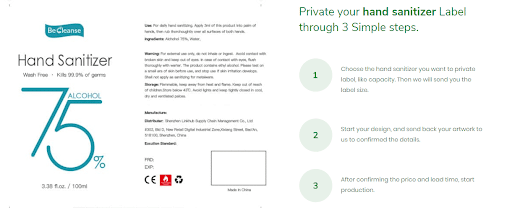 Your hand sanitizer brand is not complete without a stunning label wrapped around its bottle. A labeling machine does that for you – automatically wrapping labels on the cap and container body. This machine works if you are producing more than a thousand inventories a day.
You can also work with a private label manufacturer to produce a customized label if you have your own hand sanitizer brand.
Conclusion
Hand sanitizer manufacturing in an FDA-regulated factory requires a high level of precision in its formulation, mixing and filling processes. To achieve quality and batch-to-batch consistency, third party tests and in-house testing are performed.
BeCleanse is an experienced hand sanitizer manufacturer with over 11 years of experience in the production of high quality hand rubs. We have tried and tested formulations which can meet the quality requirements of different countries who would want to do business with us. Our company offers private label manufacturing and contract manufacturing. You may contact us for a quick quotation or if you have questions.