Do you want to know the top companies and major drivers of the hand hygiene market this 2020 and beyond? With the current Coronavirus outbreak, thousands of companies have capitalized on hand sanitizer manufacturing.
In this article, we've covered useful B2B insights, global market trend, stock market movement of hand sanitizer companies and many more. Read on to know how you can channel these insights in the hand sanitizer industry to make sound decisions for your business or trading activities.
What Companies are the Major Stock Players in the Hand Sanitizer Industry?
Want to know the hand sanitizer stock companies who are earning major revenue in 2020 to 2025?
If you're a trader or investor in the stock market, you might want to toss the net in buying companies that manufacture and/or market these staple products.
According to Market Insider, these are currently the major producers of hand sanitizers in the world.
3M Company (USA)
Best Sanitizers, Inc. (USA)
Byotrol plc (UK)
Chattem, Inc. (USA)
GOJO Industries, Inc. (USA)
Henkel AG & Co. KGaA (Germany)
Lion Corporation (Japan)
Medline Industries, Inc. (USA)
Nice-Pak Products, Inc. (USA)
Procter & Gamble Co. (USA)
Reckitt Benckiser Group plc (UK)
SC Johnson & Son, Inc. (USA)
Deb Group Ltd. (USA)
Skinvisible, Inc. (USA)
The Clorox Company (USA)
Unilever plc (UK)
Vi-Jon Laboratories, Inc. (USA)
Zep, Inc. (USA)
"The Apocalypse"
With the current Coronavirus pandemic resulting in stock piling, panic buying and supply shortage, there are numerous surges and downturns in the global market.
The health supplies industry is booming, but hand sanitizer manufacturers are still in shock with the major leap in its demand.
Unfortunately, producers, retailers and suppliers are finding it hard to keep pace.
Even GOJO Industries says, "We're looking at a substantial increase in demand. We've experienced several demand surges in the past during other outbreaks, and this is on the higher end of the spectrum."
For many manufacturers, it's a feverish and frantic situation which needs extensive work around the clock to meet the surging demand.
The Growing Demand: Hand Sanitizer Market Trend
The hand sanitizer market size is currently rising, with a worked up value of USD 2.7 billion closed in 2019. The major market shift has gone towards the need for hygiene products and hand antiseptics to rid the skin from viruses and germs.
Is there a significant difference between the preferences of male and female buyers?
Well, according to Grand View Research, 77% of consumers in a survey prefer using hand sanitizers, while 23% don't. In that 77%, 37.5% are males and 62.5% are female users.
What About Product Preferences?
In addition, more consumers prefer hand gels than that of foams, liquids or sprays from 2016 to 2017.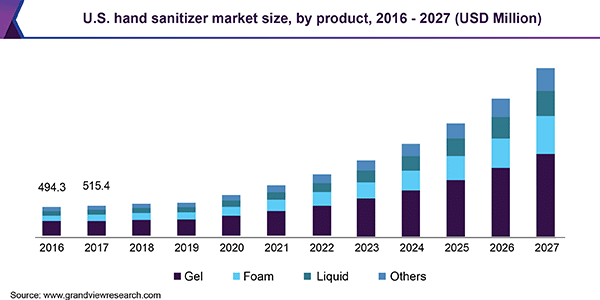 Tons of hand sanitizer manufacturers are also adding product varieties in their existing products which can increase the market share and awareness.
Private label manufacturers and contract manufacturers offering more flexible options and lower minimum order requirements can increase the sanitizer brands for the years to come.
What Drives the Demand for Hand Sanitizers?
The government and health associations' guidelines play a major role in spreading awareness on COVID-19 and the importance of hand sanitizers.
We have seen the Food and Drug Association (FDA) and World Health Organization (WHO) release guidelines on manufacturing and compounding of hand sanitizers. Alongside is the Centers for Disease Control and Prevention (CDC), who have also reiterated ways and guidelines on how to prevent the spread of the disease by proper hand hygiene.
Also, according to these health agencies, only alcohol-based hand sanitizers with at least 60% Ethyl or Isopropyl alcohol content can kill Coronavirus on the hands.
In addition to these agencies, social media influencers on Twitter, Instagram and Facebook further drives awareness on the proper hand hygiene and skin care product usage. Online advertisements have also increased the market demand for hand sanitizers.
Why Do People Use Hand Sanitizers?
Compared to using alcohol or frequent hand washing, hand sanitizers can significantly reduce skin irritation and hand dryness. It contains moisturizers such as glycerin which can make the hands smooth.
Some emollients manufacturers who also make hand sanitizers use natural or organic ingredients in their formulations, which promotes more enhancing values in the product.
Another thing is the ease of use of instant hand sanitizers. The smaller PET plastic hand sanitizers can be placed inside a small purse or inside the pocket.
How are Manufacturers Responding?
To help mitigate this shortage, thousands of companies worldwide have retooled production lines into hand sanitizer manufacturing lines.
Some of these companies are popular cosmetic industries, distilleries, alcohol and beverages producers, perfumers and others.
From vodka production, these companies are now producing hand rubs, gels, foams and sprays either to be re-sold or donated to hospitals. The target is to patch up the 1,400% short supply and to respond to the demand for the succeeding months to come.
The question is, will the growth in sales of these companies making hand sanitizers dominate the market in 2020 and beyond?
A Ray of Hope: How China is Aiding the Shortage
With the recovery of China from the outbreak, more and more hand sanitizers are being exported from the country to aid the demand of other countries.
According to GlobeNewswire, China is expected to lead the market of hand sanitizers from 2020-2025. The country is foreseen to meet almost 12% of the world's demand through bulk and wholesale exports of hand sanitizers.
This is indeed promising for the rest of the world who cannot be able to meet the demand on time. There are many companies in China offering contract manufacturing or private label services.
Hence, if you're on a tight budget, but want to retail quality hand rubs, you can import hand sanitizer from China.